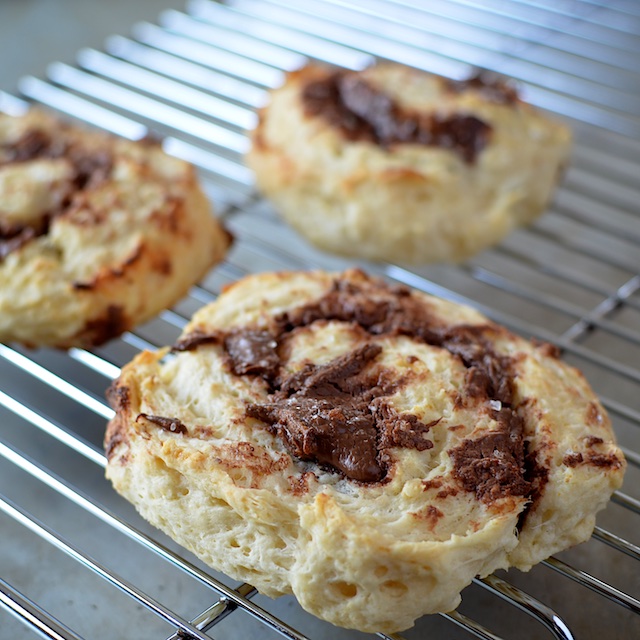 The other morning, one of my sons asked me what I was planning to make for breakfast. I almost always offer them something homemade. Since it was a weekend morning and we didn't have to worry about getting to school, I asked if he wanted to help me make something. It's unusual that one of the boys wants to help me cook, so I was excited. We looked for an interesting looking breakfast recipe and came across this one. Biscuits are traditionally very easy to make, and the swirl of Nutella really appealed to him.
Three out of my four boys like Nutella. When done, we presented the biscuits as chocolate-swirl biscuits, and guess what – the one who claims he doesn't like Nutella had no idea he was eating it. He's the pickiest eater we have. I'm wondering if I can somehow present healthy things with new names and get him to try them. Somehow I doubt it, but if you have any ideas, please let me know.
I'm not a huge Nutella fan, but these biscuits are really delicious. The biscuits themselves are not sweet at all. The Nutella gives them a nice hint of chocolaty sweetness. They disappeared from the kitchen in record time. I'm lucky that we had time to snap a photo of the last three before they were scarfed down.
Nutella Biscuits
Recipe slightly adapted from Two Peas and their Pod

2 1/4 cups all-purpose flour
2 1/2 teaspoons baking powder
2 teaspoons sugar
3/4 teaspoon baking soda
1/2 teaspoon salt
6 tablespoons cold unsalted butter, cut into cubes
1 cup buttermilk
1/2 cup Nutella
Sea salt, for sprinkling on biscuits, optional

Preheat the oven to 400 degrees F. Line a large baking sheet with parchment paper for a Silpat liner and set aside.

In a large bowl, whisk together flour, baking powder, sugar, baking soda, and salt. Mix in cold butter with your fingertips until mixture resembles coarse meal. Add buttermilk and stir with a spatula until combined. Roll the dough into a rectangle and spread the Nutella on it. Roll the dough into a log and slice it into 8 or 9 pieces (think cinnamon rolls.)

Place the sliced dough onto the prepared baking sheet. Sprinkle the biscuits with sea salt, if desired. Bake for 12-15 minutes or until tops are slightly golden brown. Remove from oven, let cool to room temperature and serve.

Yield: 8 or 9 biscuits

One year ago: Polish Cabbage, Bacon and Potato Casserole
Two years ago: Sour Cream Coffee Cake with Chocolate Cinnamon Swirl
Three years ago: Sugar Cookies with Nutella and Sea Salt
Four years ago: Chocolate and Meringue Angel Pie
Five years ago: Pad Thai with Chicken and Shrimp
Six years ago: Herbed Basmati Rice
Seven years ago: Quick Vanilla Buttercream Frosting

Print This Recipe