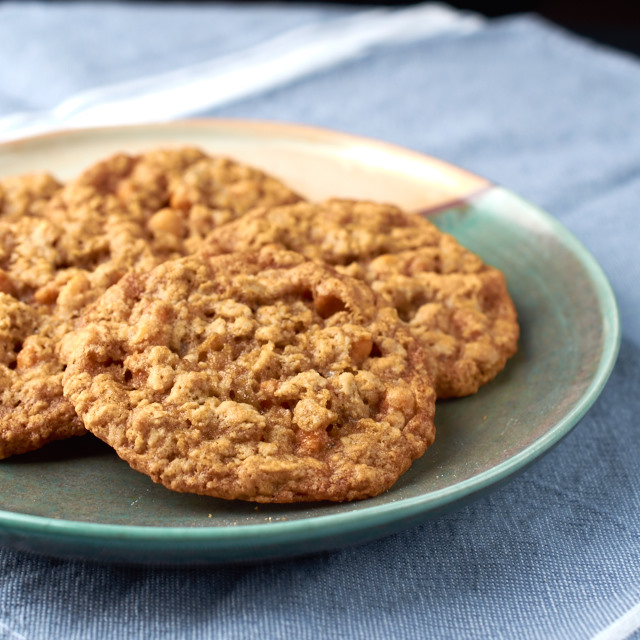 This recipe is an old favorite of mine. I remember it fondly from my childhood. The recipe was on the back of the butterscotch chips bag. They're a delicious, chewy oatmeal cookie with butterscotch chips.
Three out of four of my boys love these. One claims he doesn't like butterscotch, so he won't go near them. I don't think he's ever tried them. He just thinks he's not going to like them.  Crazy. Even though only 3 out of 4 boys like them, they disappear from our cookie jar in no time.
This recipe is definitely an oldie, but goodie.  The cookies are quite sweet, and we find that it's hard to eat just one.
Oatmeal Scotchies
Recipe from Nestle

1 1/4 cups all-purpose flour
1 teaspoon baking soda
1/2 teaspoon salt
1/2 teaspoon ground cinnamon
1 cup (2 sticks) butter or margarine, softened
3/4 cup granulated sugar
3/4 cup packed brown sugar
2 large eggs
1 teaspoon vanilla extract
3 cups quick or old-fashioned oats

Preheat oven to 375° F.

Line baking sheets with parchment paper.

Combine flour, baking soda, salt and cinnamon in small bowl. Beat butter, granulated sugar, brown sugar, eggs and vanilla extract in large mixer bowl. Gradually beat in flour mixture. Stir in oats and morsels. If your dough seems too soft to work with, chill it in the refrigerator for 15-30 minutes.

Drop by rounded tablespoon or small cookie scoop onto parchment-lined baking sheets.

Bake for 7 to 8 minutes for chewy cookies or 9 to 10 minutes for crisp cookies. Cool on baking sheets for 2 minutes; remove to wire racks to cool completely.

Yield: ~ 4 dozen cookies

One year ago: Surprise Cookies
Two years ago: Orange-Glazed Shrimp
Three years ago: Macaroni and Cheese with Black Beans and Chipotle
Four years ago: Oreo Rice Krispie Treats
Five years ago: Homemade Cheez-It Crackers
Six years ago: ncetta and Green Onions
Seven years ago: Banana Oatmeal Chocolate Chip Cookies
Eight years ago: Oatmeal Cranberry Cookies

Print This Recipe