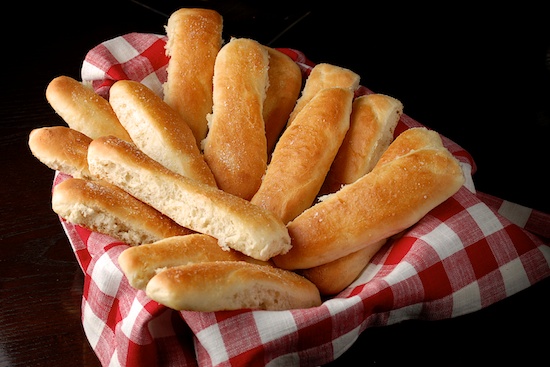 I don't know if I've ever been to an Olive Garden, but based on this recipe, I can bet that their soft bread sticks are delicious. I've made this recipe a number of times now as the boys are always asking me to make bread, rolls or biscuits. The boys are carb hounds. They each have an incredibly limited, yet different diet, but they all love bread.
Several years ago, I was scared to death to bake with yeast, after trying several times with lousy results. I persevered and now yeast and I are great friends. As long as the yeast is fresh, it's not as difficult to use as I once thought. It took me a bit of practice to get the hang of it, but now it's not intimidating at all to me.
Each time I make this, I vary the amount of garlic powder that I use. For our family 1/8 teaspoon is ideal, although one of my sons would prefer that I leave out the garlic powder entirely. I leave out the oregano because the boys still hate green stuff on their food.
You need to start to make these about an hour and 15 minutes before you want to serve them. They're best served warm.

Olive Garden Bread Sticks
Recipe from Food.com

1 (1/4 ounce) package active dry yeast
4 1/4 cups all-purpose flour, plus more for dusting
2 tablespoons unsalted butter, softened
2 tablespoons sugar
1 tablespoon fine salt

Topping:

3 tablespoons unsalted butter, melted
1/4 teaspoon kosher salt
1/8 teaspoon garlic powder
1 pinch dried oregano

Make the dough: Place 1/4 cup warm water in the bowl of a mixer; sprinkle in the yeast and set aside until foamy, about 5 minutes. Add the flour, butter, sugar, fine salt and 1 1/4 cups plus 2 tablespoons warm water; mix with the paddle attachment until a slightly sticky dough forms, 5 minutes.

Knead the dough by hand on a floured surface until very smooth and soft, 3 minutes. Roll into a 2-foot-long log; cut into 16 1 1/2-inch pieces. Knead each piece slightly and shape into a 7-inch long bread stick; arrange 2 inches apart on a parchment-lined baking sheet. Cover with a cloth; let rise in a warm spot until almost doubled, about 45 minutes.

Preheat the oven to 400 degrees F.

Make the topping: Brush the bread sticks with 1 1/2 tablespoons of the butter and sprinkle with 1/8 teaspoon kosher salt.

Bake until slightly golden, about 15 minutes.

Meanwhile, combine the remaining 1/8 teaspoon salt with the garlic powder and oregano.

Brush the warm bread sticks with the remaining 1 1/2 tablespoons melted butter and sprinkle with the garlic salt.

Yield: 16 breadsticks

Print This Recipe