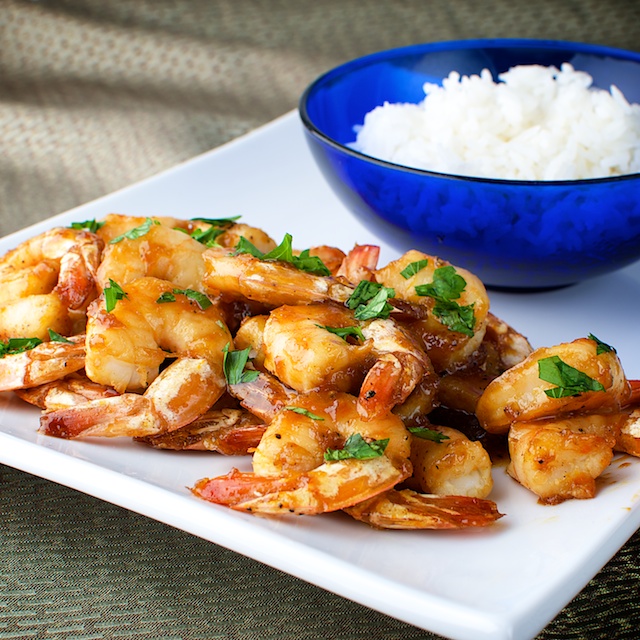 This is a perfect weeknight meal. It's easy to make, it's delicious, and you can get it on the table in about 30 minutes. Serve it with rice and steamed broccoli and you have a nice dinner.
A couple of tips: Don't overcook the shrimp. It's easy to do, but if you overcook them they'll be rubbery and tough. A perfectly cooked shrimp looks like it's in the shape of a "C". An overcooked shrimp will be in a tight "O" shape. Typically shrimp don't take more than 3-4 minutes in total to cook.
For the fresh juice, I used 4 tangelos (I had them on hand) and 2 mandarins. They produced exactly the right amount of juice, and fresh juice is always much better than the orange juice that you buy in the supermarket.
This will definitely be added to our regular dinner rotation.
Orange-Glazed Shrimp
Recipe from Food and Wine

1 1/2 cups fresh orange juice
3 tablespoons light brown sugar
2 tablespoons soy sauce
2 tablespoons finely grated orange zest
1/4 cup extra-virgin olive oil
2 pounds large shrimp, shelled and deveined
Kosher salt
Freshly ground pepper
Chopped parsley, for garnish
Steamed rice, for serving

In a saucepan, bring the orange juice, sugar and soy sauce to a boil. Simmer over moderately high heat until reduced to 1/2 cup, about 20 minutes. Stir in the zest.

In a large skillet, heat 2 tablespoons of the oil. Season the shrimp with salt and pepper. Cook half of the shrimp over moderate heat, turning once, until white throughout, 3 to 4 minutes. Transfer the shrimp to a plate. Repeat with the remaining olive oil and shrimp. Return all of the shrimp to the skillet, add the orange glaze, season with salt and pepper and toss to coat. Transfer the shrimp to a platter, garnish with parsley and serve with rice.

Yield: 4 – 6 servings

One year ago: Macaroni and Cheese with Black Beans and Chipotle
Two years ago: Oreo Rice Krispie Treats
Three years ago: Homemade Cheez-It Crackers
Four years ago: Breakfast Tart with Pancetta and Green Onions
Five years ago: Banana Oatmeal Chocolate Chip Cookies
Six years ago: Oatmeal Cranberry Cookies

Print This Recipe