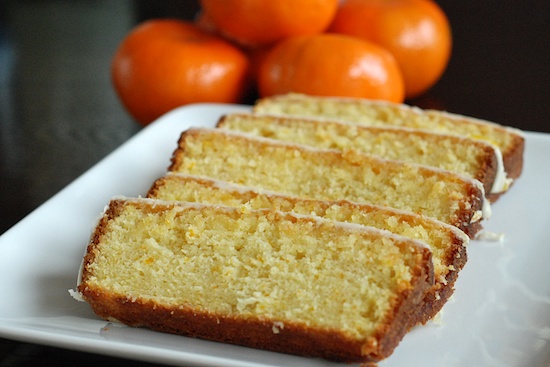 I had a number of left-over Honeybells from my fruit-of-the month club delivery. A big box came last month, and we didn't eat them fast enough. When fruit hits their peak and is about to go beyond, it's a great time to cook with it if you're not going to eat it.
This pound cake is delicious. Ina Garten really knows her desserts. Because of the glaze that you pour onto the hot bread, this loaf is incredibly moist. When I poured the glaze onto the bread, it was absorbed almost immediately. I was expecting it to run down the sides, but most was absorbed right into the top of the bread. Between all of the orange juice and zest, this cake is loaded with vitamin C.
This recipe makes two pound cakes. You can easily cut the ingredients in half if you'd only like to make one. I love recipes that call for an even number of eggs. It's much more challenging when I try to halve a recipe that calls for three eggs.
If you have leftover oranges, I recommend that you try this pound cake.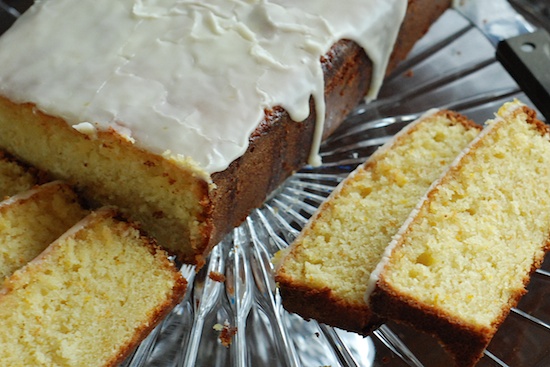 Orange Pound Cake
Recipe by Ina Garten from Barefoot Contessa Family Style

1/2 pound (2 sticks) unsalted butter, at room temperature
2 1/2 cups granulated sugar, divided
4 extra-large eggs, at room temperature
1/3 cup grated orange zest (6 oranges)
3 cups all-purpose flour
1/2 tsp baking powder
1/2 tsp baking soda
1 tsp kosher salt
3/4 cup freshly squeezed orange juice, divided
3/4 cup buttermilk, at room temperature
1 tsp pure vanilla extract

Glaze:
1 cup confectiner's sugar, sifted
1 1/2 Tbs freshly squeezed orange juice

Heat oven to 350 Degrees F. Grease and flour two 8-1/2 x 4-1/2 x 2 1/2 inch loaf pans. Line the bottoms with parchment paper.

Cream the butter and 2 cups of the granulated sugar in the bowl of an electric mixer fitted with the paddle attachment for about 5 minutes, or until light and fluffy. With the mixer on medium speed, beat in the eggs, one at a time, and the orange zest.

In a large bowl, sift together the flour, baking powder, baking soda, and salt. In another bowl, whisk together the 1/4 cup of the orange juice, the buttermilk, and vanilla. Add the flour and buttermilk mixtures alternately to the batter, beginning and ending with the flour. Pour the batter into the pans, smooth the tops and bake for 45 minutes to 1 hour, until a cake tester comes out clean.

While the cakes bake, cook the remaining 1/2 cup granulated sugar with the remaining 1/2 cup orange juice in a small saucepan over low heat until the sugar dissolves. When the cakes are done, let them cool for 10 minutes. Take them out of the pans and place them on a baking rack set over a tray. Spoon the orange syrup over the cakes and allow the cakes to cool completely.

To glaze, combine the confectioners' sugar and orange juice in a bowl, mixing with a wire whisk until smooth. Add a few more drops of juice, if necessary, to make it pour easily. Pour over the top of one cake and allow some glaze to drip down the side of the cake. Let the glaze dry.   Store the loaves in the refrigerator and wrap them well.

Yield:  2 loaves

One year ago: Nonna's Lemon Ricotta Biscuits
Two years ago: Baked Sweet Potato Fries
Three years ago: Chocolate White Chocolate Chunk Cookies

Print This Recipe