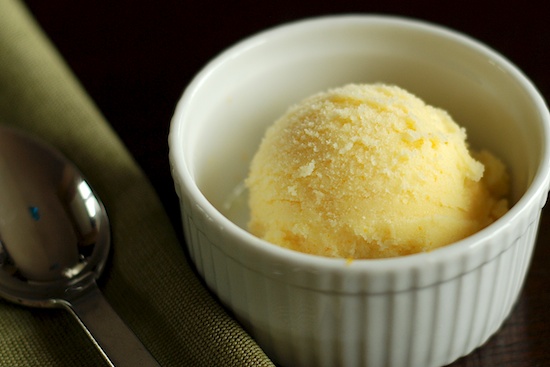 Growing up some of my friends used to say "sherbert" instead of "sherbet". When I was young I actually thought I was the one making the mistake. Sherbet is a fruit dessert much like sorbet, but it also includes some dairy – in this case, milk.
This orange sherbet recipe is delicious and it's best right out of the ice cream maker because it freezes into a fairly solid mass once you put it in the freezer. While I was making it, I wondered if I should add a bit of vodka as I do to most of my frozen desserts, but I ignored my gut instinct and decided to make the recipe as written. I've cooked long enough now to know to follow my gut, so next time I will. Next time I make this, I'll add a tablespoon of vodka (I even had a bottle of Stoli Mandarin Orange in the freezer that would have been perfect in this sorbet!) to keep the sorbet from freezing solid.
The orange zest and the lemon juice give the sorbet a really fresh taste. I didn't have lemon juice on hand, so I substituted 1/2 teaspoon fresh lime juice. It worked perfectly.
If you choose not to use vodka, take the sherbet out of the freezer twenty minutes before you serve it so it has a chance to thaw.
Orange Sherbet
Recipe from Alton Brown on Foodnetwork.com

7 ounces sugar
1 1/2 tablespoons finely grated orange zest
1/4 teaspoon kosher salt
2 cups freshly squeezed orange juice, approximately 2 to 3 pounds oranges
1 tablespoon freshly squeezed lemon juice
1 teaspoon vanilla extract
1 1/2 cups very cold whole milk

In the bowl of a food processor combine all of the ingredients except the milk and process until the sugar is dissolved, approximately 1 minute. Transfer the mixture to a mixing bowl and whisk in the milk. Cover the bowl and place in the refrigerator until the mixture reaches 40 degrees F or below, approximately 1 hour.

Pour the mixture into an ice cream maker and process until it is the consistency of soft serve ice cream. You may serve now or transfer to a lidded container and place in freezer until firm, approximately 3 hours.

Yield: ~1 quart

One year ago: Orzo with Sausage, Peppers and Tomato

Print This Recipe