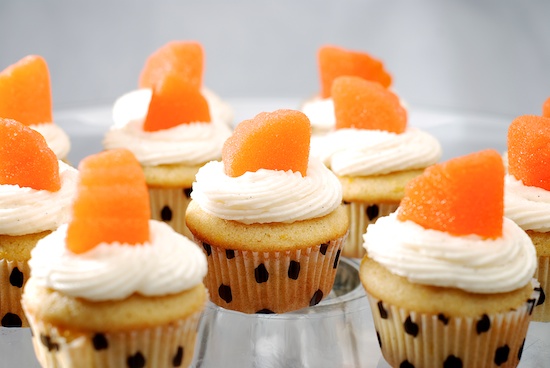 I made these for a school function the other day and I thought they were fantastic. I am a big citrus fan and the orange is really wonderful in these cupcakes. The fresh vanilla beans add some nice flavor as well. Every now and then it's nice to make something other than a chocolate or a vanilla cupcake.
I made mini cupcakes because I was taking them to school where they were going to be eaten by little people. Usually when I make mini cupcakes, I find that after a day or so, they start to dry out. Not these cupcakes. I kept them in the bowl you see below and they were still moist and delicious several days after I made them. I was really surprised, but they were.
These cupcakes were so pretty when I served them that they made me smile. I hope you like them as much as we did.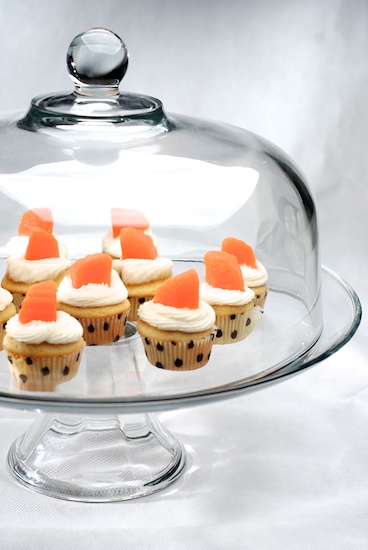 Orange Vanilla Bean Cupcakes
Recipe adapted from Annie's Eats, who adapted it from Martha Stewart

For the cupcakes:
1 cup (16 tbsp.) unsalted butter, at room temperature
2 cups sugar
2 vanilla beans, split lengthwise
2 tbsp. finely grated orange zest
4 large eggs
1 1/2 cups heavy cream (or whole milk)
1/2 cup freshly squeezed orange juice
2 tbsp. vanilla extract
4 cups all-purpose flour
1/2 tsp. baking powder
1/2 tsp. baking soda
1/2 tsp. salt

Frosting:
1 cup salted butter (2 sticks or 1/2 pound), softened
3-4 cups confectioners sugar, sifted
1 teaspoon vanilla extract
seeds scraped from one vanilla bean
up to 4 tablespoons milk or heavy cream

Preheat the oven to 350˚ F. Line cupcake pans with paper liners. In the bowl of an electric mixer, combine the butter and sugar. Scrape the seeds from the vanilla bean pods and add to the bowl. (I put my vanilla pods into my canister of sugar. It turns my sugar into 'vanilla sugar'.) Add in the orange zest. Beat the mixture on medium-high speed until light and fluffy, about 2-3 minutes. Add the eggs one at a time, mixing well after each addition.

In a liquid measuring cup, combine the cream, orange juice, and vanilla. In a medium bowl, combine the flour, baking powder, baking soda, and salt. In three additions, add the dry ingredients to the mixer bowl, alternating with the cream mixture. Mix each addition on low speed just until incorporated, beginning and ending with the dry ingredients. Divide the mixture between the prepared cupcake liners, filling each about 3/4 full. Bake until a toothpick inserted in the center comes out clean, about 20-22 minutes.

To make the frosting, add the butter to the bowl of an electric mixer fitted with the whisk attachment. Whip on medium-high speed until smooth, about 1 minute. Add the confectioners' sugar to the bowl and mix on medium-low speed just until incorporated. Scrape the seeds from the vanilla bean pod into the bowl. Continue to beat on medium-high speed until smooth, about 1-2 minutes. Mix in the vanilla extract and heavy cream on low speed just until incorporated. Increase the mixer speed and whip on high speed until light and fluffy, scraping down the bowl as needed, about 4 minutes. You can adjust the consistency of the frosting by playing with the amounts of confectioners sugar and cream.

Transfer the frosting to a pastry bag fitted with a decorative tip. Pipe a swirl of frosting on top of each cupcake and garnish with half a jellied orange slice. If you don't have a pastry bag, you can use a knife to frost the cupcakes.

Yield: 24 – 28 cupcakes

Print This Recipe