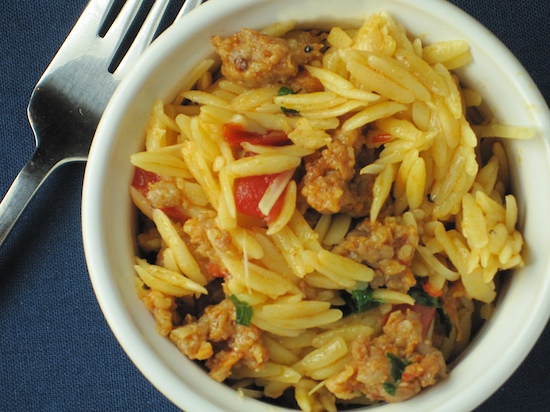 We're on Shelter Island for Memorial Day weekend, our first weekend out here for the season, and the kitchen is not yet geared up for the summer, nor is the barbecue. I'm always afraid to take the cover off the barbecue at the beginning of the season because we often find a wasps' nest in it. Anyway, I wasn't brave enough to open the barbecue, so I looked for something quick and easy to make that could be cooked on the stove.
I ran to the library on Friday just before we left the city because the boys asked me to get a couple of books for them. As I was walking into the library, I passed a display rack that included a number of cook books. This Giada DeLaurentiis book was sitting on the top shelf waiting to be borrowed, so I grabbed it. I flipped through it on the drive to Shelter Island and found at least 6 recipes that I want to try. I made three of them today, this one, Nutella Biscotti and Strawberry Mascarpone Granita. I'll post the dessert recipes over the next couple of days. I LOVE going to the library. We don't have a lot of room for books in our apartment, and I hate spending money for something that I'm just going to give away, so I look forward to going to the library, I like going almost as much as I like shopping.
I love cooking pasta dishes because they come together so quickly. I made Spaghetti Carbonara the other night which was delicious, but we ate the pasta before we could photograph it. Ah, the perils of a good recipe.
Although this recipe calls for turkey sausage, I made it using hot and spicy pork sausage. I also used a whole pound of sausage; the original recipe called for 7 ounces. I liked it with the extra sausage. This simple recipe has a lot of flavor. If you try it, please let me know if you like it.
Orzo with Sausage, Peppers, and Tomatoes
Recipe adapted from  Giada's Kitchen, New Italian Favorites by Giada DeLaurentiis

1 pound orzo pasta
3 cups chicken broth
3 cups water
2 tablespoons olive oil
1 pound mild Italian turkey sausage, casings removed
1 clove garlic, minced
2 jarred roasted red bell peppers, cut in 1/4 inch strips
2 plum tomatoes, chopped
1/4 teaspoon red pepper flakes, optional
2 tablespoons chopped fresh flat-leaf parsley
Salt and freshly ground black pepper
1/2 cup freshly grated Parmesan cheese

In a medium saucepan, bring the chicken stock, water, and kosher salt to a boil over high heat. Add the pasta and cook until tender but still firm to the bite, stirring occasionally, about 8 to 10 minutes.

While the pasta is cooking: In a large skillet, heat the oil over medium-high heat. Add the turkey sausage and saute until cooked through, about 4 minutes. Add the garlic and cook for 1 minute. Add the bell peppers, tomatoes, and red pepper flakes, if using, and cook until heated through, about 2 minutes.

Drain the pasta, reserving about 1/2 cup of the cooking liquid, and transfer to a large serving bowl. Add the sausage mixture, 1 tablespoon of the parsley, and season with salt and pepper, to taste. Toss well to combine all ingredients, adding reserved cooking liquid, if needed, to loosen the pasta. Top with the Parmesan and sprinkle with the remaining parsley.

Yield 4 – 6 servings

Print This Recipe