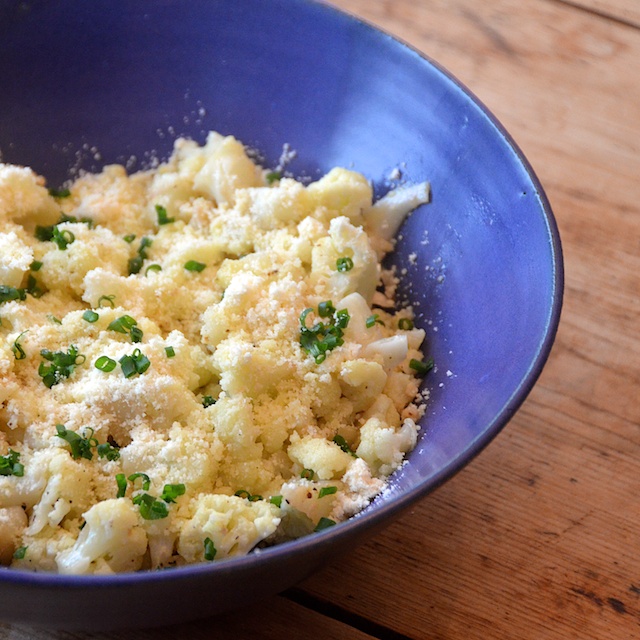 This is my new favorite way to make cauliflower. I wouldn't say it's a summer dish because you have to heat your oven to 500 degrees F, which can make your kitchen warm in the summer heat, but it's a perfect fall dish when the weather gets nippy.
Don't be fooled by the directions, you do indeed need to preheat your oven to 500 degrees. It seemed high to me, and I worried that the cauliflower might burn because it was cut into such small pieces, but it didn't. Definitely make sure to cut all of the cauliflower into pieces no more than 1.5 inches in diameter (you actually don't want any of the dimensions to exceed 1.5 inches). That way, all of the cauliflower will cook at the same rate.
I've made this twice recently (despite the summer heat!)  The second time I made it, I let the cauliflower cook for a few extra minutes so some of the tops got a bit brown.   It was truly delicious both times I made it.
Oven-Roasted Cauliflower with Garlic, Olive Oil and Lemon Juice
Recipe by Emeril Lagasse at FoodNetwork.com


5 to 6 cups cauliflower florets, about 1 1/2 inches in diameter (from 1 medium cauliflower)
1/4 cup extra-virgin olive oil
1 Tablespoon sliced garlic
2 Tablespoons lemon juice
1 teaspoon salt
1/2 teaspoon black pepper
2 Tablespoons grated Parmesan
Chopped chives, for garnish

Preheat the oven to 500 degrees F.

Place the cauliflower florets in a large saute pan or a roasting pan. Drizzle the olive oil over the cauliflower, and season with the garlic, lemon juice, salt and pepper. Place the saute/roasting pan in the oven and cook for 15 minutes (or a few more if you like your cauliflower browned a bit), stirring several times to ensure even roasting. Remove from the oven and sprinkle with the Parmesan. Garnish with chopped chives and serve immediately while still warm.

Yield: 6 servings

One year ago: Quinoa Cakes
Two years ago: Two-Bite Chocolate Chunk Muffins
Three years ago: Fresh Strawberry Muffins
Four years ago: Curried Chicken Salad
Five years ago: Spinach and Bacon Quiche

Print This Recipe