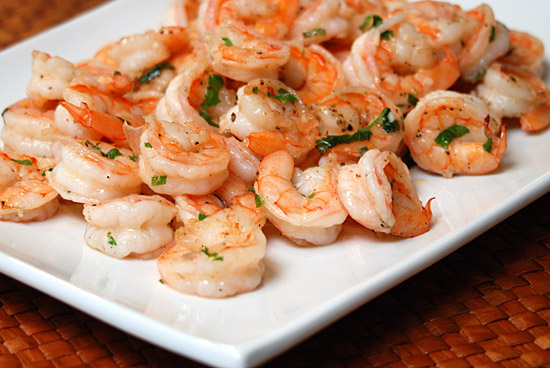 We had a potluck event at the boys' school tonight and first grade families were responsible for bringing an international appetizer or side dish.   I spent a lot of time looking for recipes this afternoon, but didn't find anything that piqued my interest.   Last week, I made this recipe for our book club meeting and everyone loved it, so I decided to make it again.    It's hardly international, but the shrimp was inhaled at the book club meeting, and it went very quickly tonight as well.   Once I got to the event tonght, I put a toothpick in each shrimp so they were easy to pick up.
Both times I made this, I received many compliments about how well I cooked the shrimp (and also about how good the shrimp tasted).   If you follow the recipe instructions exactly, your shrimp should also be perfectly cooked.   I've made many a rubbery shrimp in my day, but this recipe created perfect shrimp both times.    It was incredibly easy and very, very quick.    If you're ever asked to bring an appetizer to an event, I recommend trying this recipe.    Here's another one that's really good too.
I served this as an appetizer/hors d'oeuvre, but I'd also serve it as an entree over rice with a vegetable or a salad on the side.  I hope you like it.

Pan Seared Shrimp With Garlic-Lemon Butter
Recipe from RecipeZaar

3 tablespoons butter, softened
1 medium garlic clove, minced
1 tablespoon lemon juice
2 tablespoons fresh parsley leaves, chopped
1/8 teaspoon salt
2 tablespoons vegetable oil
1 1/2 lbs shrimp, peeled and deveined (21/25 count)
1/4 teaspoon salt
1/4 teaspoon pepper
1/8 teaspoon sugar

Beat butter with a fork in a small bowl until light and fluffy.  Stir in garlic, lemon juice, parsley and 1/8 tsp salt until combined.  Set aside.

Heat 1 tbs oil in a 12-inch skillet over high heat until smoking. Meanwhile toss shrimp, salt, pepper and sugar in a medium bowl. Add half of shrimp to pan in a single layer and cook until spotty brown and edges turn pink, about 1 minute. Remove pan from heat; using tongs, flip each shrimp and let stand until all but very center is opaque, about 30 seconds. Transfer shrimp to a large plate.

Repeat with remaining oil and shrimp; after second batch has stood off heat, return first batch to skillet along with flavored butter and toss to combine. Cover skillet and let stand until shrimp are cooked through, 1 to 2 minutes. Serve with lemon wedges if desired.

Serves 4  as an entree or 8 as an appetizer.