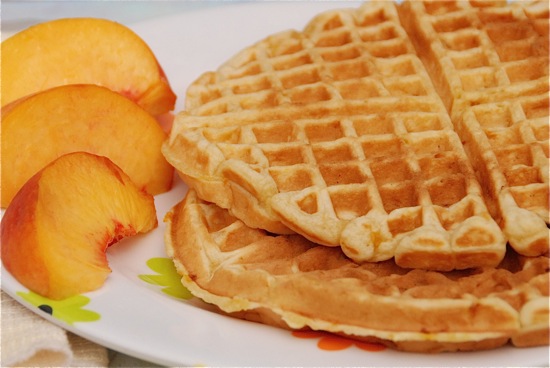 I've been on a peach kick this summer. I bought some the other day, and I knew I'd need to cook with a couple of them because we're not eating them fast enough. One of my sons – my best fruit eater – has developed Oral Allergy Syndrome. As a result he's allergic to raw apples and peaches. It's a shame because he really loves them both.
Anyway, I felt like using some of them this morning, so I searched for a peach breakfast recipes and came across this one on a website called Barrister Bites. The waffles sounded delicious to me, but I knew they'd be a risky recipe to make because my boys don't like to find fruit hidden in things. I thought about pureeing the peaches, then decided that I'd be ok if I minced them. I spent a fair amount of time chopping the peaches into really, really tiny pieces in an attempt to hide them. I didn't succeed. Despite the fact that the pieces of peach were minuscule, the boys somehow spotted them almost immediately.   Can you see the peaches in the waffles?   I can't.  Oh well, more waffles for me!
These waffles are very tasty.   The lemon zest and the peach flavors go well together.   They're not as light and crispy as these waffles that I make, but they're really delicious. They have a really nice peach flavor to them.



Peach and Sour Cream Waffles
Adapted ever so slightly from Barrister Bites
1 1/2 cups flour
3 tablespoons sugar
2 teaspoons baking powder
1 teaspoon kosher salt
1/2 cup sour cream
3/4 cup plus 1 tablespoon milk (I used vanilla soy milk)
2 large eggs
1 teaspoon pure vanilla extract
2 teaspoons freshly grated lemon zest
2 ripe peaches, peeled and diced

Sift together the flour, sugar, baking powder, and salt. In a separate bowl, whisk together the sour cream, milk, eggs, vanilla, and lemon zest. Add the wet ingredients to the dry ones, mixing only until combined. Carefully fold in the peaches.

Heat waffle iron. Ladle the batter into the iron.  Cook according to iron instructions. Place cooked waffles on a cookie sheet and place in the oven heated to 170 degrees to keep them warm until serving.

Serve with your choice of toppings: whipped cream, butter, maple syrup, or powdered sugar.

Yield: 6 waffles

Print This Recipe