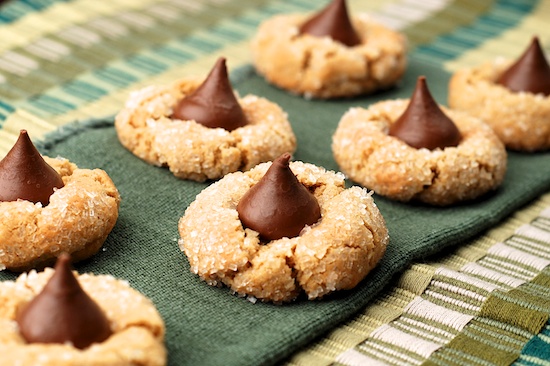 My mother used to make these cookies for us when I was growing up and I loved them. They were a holiday tradition. My parents had a big Christmas party every year and a big plate of these was always on the dessert table. My own boys love these too. Well, actually, 3 out of 4 do. The one who only eats peanut butter sandwiches doesn't like them. Go figure!
We had two European students visit us in the last week, one from Spain and one from Italy and they both told me that they were not familiar with cookies made with peanut butter. They don't use peanut butter in Italy or Spain as we do here. I wasn't aware that peanut butter was so American.
This recipe was developed by Mrs. Freda Smith of Gibsonburg, OH in 1957.  She entered the recipe in a Pillsbury Bake-Off contest.   The cookies did not win the grand prize, but they did gain lots of national recognition as Hershey's decided to print the recipe on the backs of their Hershey's Kisses bags.  Since then, the cookies have graced millions of dessert tables across America.  Thanks for the recipe Mrs. Smith!
Peanut Butter Blossoms
Recipe from Hershey's Kitchens

48 Hershey's Kisses
1/2 cup shortening or 1/2 cup butter, softened
3/4 cup creamy peanut butter
1/3 cup granulated sugar
1/3 cup packed light brown sugar
1 egg
2 tablespoons milk
1 teaspoon vanilla extract
1 1/2 cups all-purpose flour
1 teaspoon baking soda
1/2 teaspoon salt
Additional granulated sugar

Preheat oven to 375°F. Remove wrappers from chocolates.

Beat shortening or butter and peanut butter in large bowl until well blended. Add 1/3 cup granulated sugar and brown sugar; beat until fluffy. Add egg, milk and vanilla; beat well. Stir together flour, baking soda and salt; gradually beat into peanut butter mixture.

Shape dough into 1-inch balls. Roll in granulated sugar; place on ungreased cookie sheet.

Bake 8 to 10 minutes or until lightly browned. Immediately press a chocolate into center of each cookie; cookie will crack around edges. Remove from cookie sheet to wire rack. Cool completely.

Yield: ~48 cookies

One year ago: Ginger Scones
Two years ago: Cherry Banana Muffins with White Chocolate Chips
Three years ago: Classic Dinner Rolls
Four years ago: Malted Milk Ball Cookies

Print This Recipe