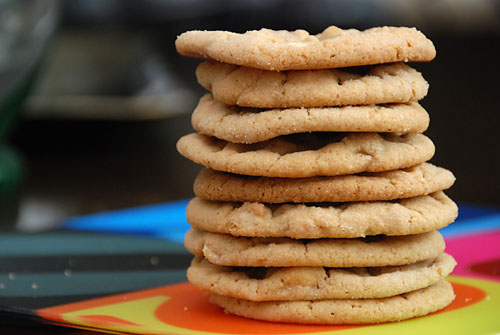 Peanut butter cookies have never been my favorite, but if you add white chocolate to anything, I'm willing to give it a shot.   And I'm glad I did – these cookies are great!  They're a modern update to the traditional peanut butter cookie that had the cross-hatched fork marks on them.   The addition of white chocolate and peanut butter chips put these cookies over the top.  In addition, as the recipe notes, I used a white chocolate peanut butter from a company downtown called Peanut Butter & Co. If you can't find this particular type of peanut butter, my guess is that regular peanut butter will be a fine substitute.  The original recipe actually calls for regular peanut butter.
I started by saying that peanut butter cookies were not my favorite.  I have one exception to that statement.  My mother makes a mean peanut butter blossoom cookie which is a peanut butter cookie with a Hershey's kiss on top.  They're really good.   We usually have them around the holidays.
I enjoy reading other cooking blogs, and I actually found this recipe on a site called One Ordinary Day.   The author of that site found the recipe on one of my favorite blogs called Smitten Kitchen.  Speaking of reading blogs, if you like this recipe or any of the others that I have posted, would you mind leaving a comment?     Thanks and enjoy the cookies!
Peanut Butter Cookies
From One Ordinary Day

1 1/4 cups all-purpose flour 
3/4 teaspoon baking soda
1/2 teaspoon baking powder
1/4 teaspoon salt
1/2 cup unsalted butter, softened
1 cup peanut butter at room temperature (I used Peanut Butter and Co.'s White Chocolate Wonderful peanut butter)
3/4 cup sugar
1/2 cup firmly packed light brown sugar
1 large egg, at room temperature
1 tablespoon milk
1 teaspoon vanilla extract
1/2 cup peanut butter chips
1/2 cup white chocolate chips

For sprinkling: 1 tablespoon sugar

Preheat oven to 350 degrees.

In a large bowl, combine the flour, the baking soda, the baking powder, and the salt.  Set aside.

In a large bowl, beat the butter and the peanut butter together until fluffy. Add the sugars and beat until smooth. Add the egg and mix well. Add the milk and the vanilla extract. Add the flour mixture and beat thoroughly. Stir in the peanut butter and chocolate chips. Place sprinkling sugar on a plate. Drop dough by rounded teaspoonfuls (or use a small ice-cream scoop) into the sugar, then onto ungreased cookie sheets, leaving several inches between for expansion. Using a fork, lightly indent with a criss-cross pattern, but do not overly flatten cookies. Bake for 10 to 12 minutes. Do not over bake. Cookies may appear to be underdone, but they are not.

Cool the cookies on the sheets for 1 minute, then remove to a rack to cool completely.

Yield:  ~ 3 dozen cookies

Print This Recipe