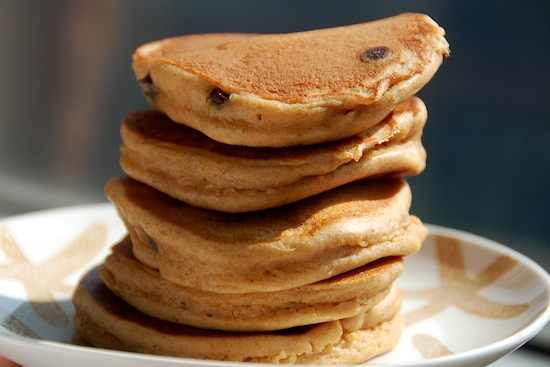 My sister Gail periodically sends me recipes that she finds online. When I got this one, I immediately put it in my "to make" folder. Our boys love pancakes and waffles in the morning, so I thought this recipe was a good way to mix their breakfast up a bit. One of my sons claims not to be a peanut butter fan, but he certainly liked these pancakes. Another son liked these so much he requested them for lunch as well.
I can't say that these were my personal favorite. I thought they were a bit heavy and tasted too much of peanut butter for my taste, but I'll definitely make them again because the boys enjoyed them so much. It's nice to know that they're getting a nice dose of protein in their breakfast.
The recipe comes from a great blog that I like to read called One Ordinary Day.   You should check it out.

Peanut Butter Pancakes with Chocolate Chips
From One Ordinary Day

1 cup all-purpose flour
1 cup whole wheat flour
2 Tbsp. baking powder
2 Tbsp. packed light brown sugar
1 teaspoon salt
2 eggs
2 cups milk (add a little more milk for a thinner batter)
1 cup creamy peanut butter
1 teaspoon vanilla extract
2/3 cup semisweet chocolate chips

Combine all dry ingredients in large bowl. Mix eggs, milk, and vanilla in a separate bowl. Pour wet mixture into dry mixture. Add peanut butter. Stir only enough to combine all ingredients. Chocolate chips can be added to batter or used to top pancakes on the griddle. Drop by 1/3 cupfuls onto hot griddle.

Yield:  Approximately 16 pancakes.

Print This Recipe