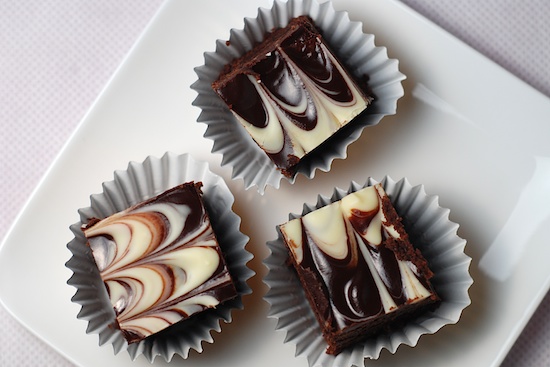 We had a school meeting for kindergarten parents the other night and one of the organizers asked me to make some dessert, so I decided to try these. They were wonderful. They had a great peppermint flavor and I loved how pretty the frosting was. I made mine bite-sized because they were being served at a cocktail party. These will be great to serve during the holidays.
I had a little trouble melting my white chocolate.   It never got to the point where I thought I could pour it onto the brownies, so I added a couple of drops of vegetable oil while I was heating it, and it helped immensely.
This recipe hammered home the hot knife trick for me. If you dip a knife into warm water, then dry it off, it will give you a nice clean cut, especially when cutting things that have been chilled first. I was really nervous before cutting the brownies because I was bringing them to an event, but they cut beautifully, with nice clean edges.

Peppermint Brownies
Recipe from Fine Cooking Magazine, August 2002

10 oz. (2-1/2 sticks) unsalted butter; more for greasing the pan
10 oz. unsweetened chocolate
2 tsp. peppermint tea leaves (from about 2-tea bags)
2 cups granulated sugar
4 large eggs
2 tsp. peppermint extract
1/4 tsp. kosher salt
4-1/2 oz. (1 cup) all-purpose flour
2 oz. semisweet chocolate
2 Tbs. light corn syrup
2 oz. white chocolate

Center a rack in the oven and heat the oven to 350°F. Butter the bottom and sides of a 9×13-inch baking pan, line it with parchment (the paper should extend at least an inch above the long sides to act as handles for getting the brownies out), and butter the paper.

Put about 2 inches of water in a small pot and heat to a gentle simmer. In a heatproof bowl set over the water, melt 8 oz. of the butter and 8 oz. of the unsweetened chocolate. Be sure that the water is hot but not boiling and that it doesn't touch the bottom of the bowl. Stir occasionally with a heatproof spatula until the mixture is completely melted and uniform, 6 to 7-minutes. Turn off the heat, but leave the bowl over the water.

In a food processor, finely grind the peppermint leaves with the sugar. In a medium bowl, whisk together the eggs, salt, and peppermint sugar until just combined. Next, add the peppermint extract and whisk until completely blended. Whisk in the melted chocolate mixture (reserve the pot of water for later). Slowly add the flour, gently folding it in with a spatula, until incorporated. Spread the batter into the prepared pan and bake until a pick inserted into the center comes out almost clean (a few bits of batter should cling to the pick), 35 to 40 minutes. Put the pan on a rack to cool to room temperature, about 2 hours. Lift the paper lining to pull the brownies out of the pan. Peel the paper off the brownies and put them on a cutting board.

To make the glaze, bring the pot of water back to a gentle simmer. Set a heatproof bowl over the pot and add the semisweet chocolate, corn syrup, and the remaining 2 oz. each butter and unsweetened chocolate. Stir frequently with a heatproof spatula until the mixture is melted and smooth; set aside. Put the white chocolate in a separate heatproof bowl and set it over the water. Stir frequently until it's melted and smooth; remove it from the heat.   If you have trouble getting it smoothly melted, you can add a couple of drops of vegetable oil.  This should help.  Spread the chocolate glaze over the cooled brownies in an even layer using a spatula.

Drizzle the white chocolate over the glaze in evenly distributed lines. Use a toothpick or a wooden skewer to drag the white chocolate into the glaze and make a marbleized pattern. Lift the cutting board and firmly tap it on the counter to settle the glaze.

Refrigerate until the glaze is set, at least 20 minutes and up to 12 hours. Cut into thirty bars, about 2 inches square (a knife rinsed in hot water and then dried will cut more cleanly than a cold knife). Keep well covered and serve at room temperature.

Yield: ~30 brownies

One year ago: Smoked Chili Scalloped Sweet Potatoes
Three years ago: Spiced Coconut Lentil Soup