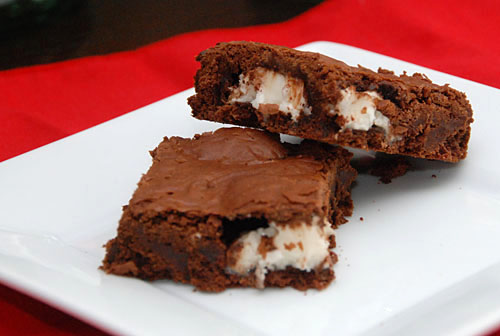 Just before Christmas, I love chocolate things made with peppermint.    One night I felt like having peppermint brownies, so I searched for a recipe.  There are many out there, but this one looked particularly good (because it contained York Peppermint Patties!) so I decided to give it a try.  It was well worth it.   I've made them twice already.
Don't be put off by the fact that there's only 1/2 cup of flour in the recipe – it's not a typo.   And don't worry that it doesn't have any baking powder or baking soda – again, not a typo – just a recipe that makes a really chewy, really rich brownie.
I hope you like these as much as I do.   They're perfect for the  holidays!
Peppermint Brownies
Adapted from MarthaStewart.com

8 tablespoons (1 stick) unsalted butter, plus more for pan
8 ounces semisweet or bittersweet chocolate, chopped
1 cup sugar
3/4 teaspoon salt
3 large eggs
1/2 cup all-purpose flour (spooned and leveled)
1/4 cup unsweetened cocoa powder
25 small (1 1/2 inch) peppermint patties

Preheat oven to 350 degrees. Line an 8-inch square baking pan with parchment paper, leaving an overhang on all sides. Set aside.

Place chocolate and butter in a medium heatproof bowl set over (not in) a saucepan of gently simmering water. Stir occasionally just until melted, 4 to 5 minutes.

Remove from heat. Whisk in sugar and salt until smooth; whisk in eggs. Gently whisk in flour and cocoa powder just until smooth (do not overmix).

Spread 1/3 of batter in prepared pan. Arrange peppermint patties on batter in a single layer, leaving a narrow border on all sides. Top with remaining batter, and smooth surface. Bake until a toothpick inserted in center comes out with moist crumbs attached, about 45 minutes.

Cool completely in pan. Use parchment to lift from pan; peel off parchment and discard. Cut into 16 squares (4 rows by 4 rows).

Print This Recipe