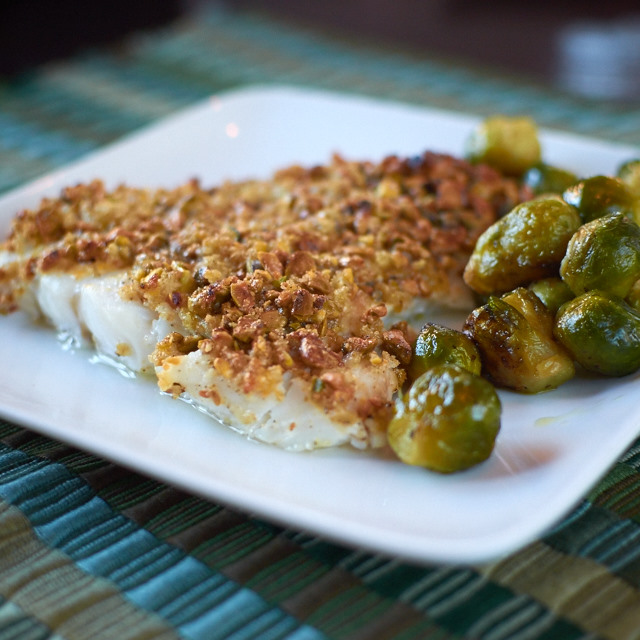 If you like fish, this is a very simple dish to make and it's elegant enough for company. The recipe calls for cod, but any thicker, mild white fish like halibut, for example, should do. I love this recipe because you can make the topping in advance. You can even spread the mustard and the topping on the fish right before the guests arrive, then throw it in the oven when you're ready to eat. The fish cooks in under 15 minutes. I have made this several times for guests and it's definitely a crowd-pleasing dinner.
If you're buying pistachios that have already been shelled, buy them unsalted so the dish doesn't end up too salty.
In doing some reading, I learned that it's much friendlier for the oceans to eat Pacific cod than it is to eat Atlantic cod, unless the Atlantic cod is from a recirculating aquaculture system. On the list of sustainable fish to eat, Atlantic cod is at the bottom of the list.  Here's a website that will tell you the best fish to eat to keep our oceans healthy.
My husband and I loved this dish. How many of the boys ate it?  You're right.  None.
Pistachio-Crusted Cod Fillets
Recipe from FineCooking.com

1/2 cup unsalted shelled pistachios
1/3 cup fresh breadcrumbs
2 Tbs. grated Parmesan
1/2 tsp. coarse salt; more to taste
1/8 tsp. finely ground black pepper; more to taste
2 Tbs. olive oil
4 cod fillets, preferably loin pieces (4 to 6 oz. each)
2 Tbs. Dijon mustard

Heat the oven to 425°F. Line a small baking sheet with foil and lightly grease the foil (spray is fine).

Chop the pistachios into medium-fine pieces. Combine the nuts, breadcrumbs, Parmesan, salt, and pepper in a shallow bowl. Drizzle with the olive oil and toss with a fork until the crumbs are evenly moistened.

If using fillets with tapered ends, loosely fold the ends under to create a fillet of even thickness. Spread the top of each fillet evenly with the mustard. Press the mustard-coated side of each fillet into the crumb mixture to generously coat the fish. Set the fillets, coating side up, on the prepared pan. Sprinkle the remaining crumb mixture over the fillets to form a thick coating.

Bake the fillets until the topping is crisp and browned and the fish is cooked through, 10 to 12 min., depending on thickness. The fish is done when it's no longer opaque in the center and when it flakes easily. Serve immediately.

Yield: 4 servings

One year ago: Sautéed Edamame Salad
Two years ago: Chock-Full-of-Chips Drops
Three years ago: Provençal Cherry Tomato Gratin
Four years ago: Black Bean and Pepper Jack Burgers
Five years ago: Strawberry-Orange-Vanilla Smoothie
Six years ago: Shortbread Cookies
Seven years ago: Sweet Potato Bread
Eight years ago: Asian Salmon Burgers

Print This Recipe