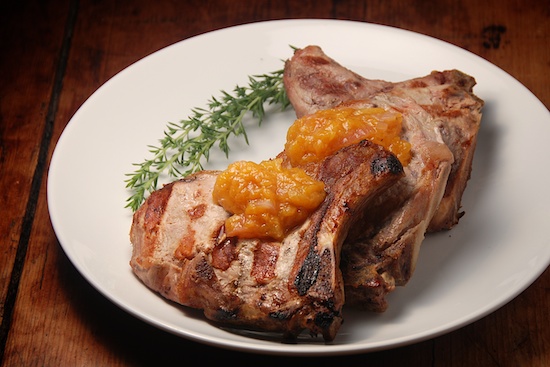 I'm on a peach kick because they're in season here in the Northeast. We just had some friends visit from Atlanta, and they like pork chops, so I searched for an interesting pork chop recipe. My go-to pork chop recipe (wow,  I need a better picture of it!), which I love involves the oven and it's in the 90s her in NY so I chose not to make it.  Instead, I decided to put the chops on the barbecue and make a peach-ginger chutney to top them.  Yum!
Cooking the pork chops on the grill was so easy.   I think everything's easier to cook on the grill.   The grill held all of the pork chops at once (I was cooking for 16), and there was so little clean-up needed.   I had a lot of help making the chutney, so it didn't take very long.    Dinner was on the table in no time.   This is a perfect summer meal – quick and easy.
The original recipe (which I provide below), has you dredge the pork chops in flour, then pan fry them. Since I chose to grill the pork chops over medium-high heat, I skipped the flour dredging step.  I also didn't have a shallot at home, so I used a quarter of a red onion, chopped fine.  The only other way I strayed from the recipe was by using bone-in pork chops, because I had already purchased them.
Pork Chops with Peach-Ginger Chutney
Recipe from the July 2010 issue of Fine Cooking Magazine

2 medium peaches (about 3/4 lb.), peeled, pitted, and chopped
One 3-inch piece fresh ginger, peeled and cut into 4 thick coins
1 large shallot, chopped
2 tsp. granulated sugar
1 large sprig fresh thyme
Kosher salt and freshly ground black pepper
3-1/4 oz. (3/4 cup) all-purpose flour
4 (3/4-inch-thick) boneless pork loin chops
1/4 cup extra-virgin olive oil

Combine the peaches, ginger, shallot, sugar, thyme sprig, a pinch each of salt and pepper, and 1 Tbs. water in a small saucepan. Bring to a boil over medium-high heat. Cover, reduce the heat to low, and simmer, stirring occasionally, until the peaches have collapsed and released their juices, about 20 minutes; discard the ginger and thyme sprig. Cover and set aside.

Meanwhile, if you are pan frying the pork chops, combine the flour, 1 tsp. salt, and 1/4 tsp. pepper in a wide, shallow dish and stir to combine. Season the pork chops on both sides with salt and pepper. Dredge the chops in the flour mixture, shake off any excess, and transfer to a clean plate. Discard any remaining flour. If you are grilling the pork chops, there is no need to dredge them in four.

Heat the oil in a large (12-inch) skillet over medium heat. Arrange the pork chops in a single layer and cook, turning once, until deep golden-brown all over and cooked through, about 12 minutes total. (If you choose to grill the pork chops, preheat the grill and cook the chops over medium-high heat for ~5 minutes on each side, until done.

Mash the peach chutney with a potato masher until slightly chunky. Season to taste with salt and pepper.

Transfer the pork chops to plates, top with the chutney, and serve.

Yield: 4 servings

Print This Recipe