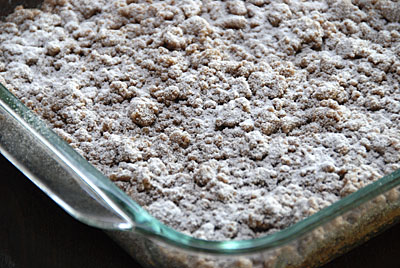 Three of my boys have publishing parties this week at school and they all take place at 9 am. A publishing party is a kindergarten celebration that focuses on the children's writing. Each of my sons wrote a non-fiction book about 6 pages long complete with a cover page, a dedication and a table of contents. Parents are asked to bring something to eat or drink to the party. I will be making my favorite coffee cake. I have made it before for class events and it's always a big hit, especially if it is cut up. If it's cut into small pieces it'll go before the party is over. If it's not cut up, folks seem to be afraid to broach it.
If I can offer one tip for making the crumb topping, it's to make sure that the butter that you use comes right from the refrigerator. Yes, you want it rock hard. The first time I made this recipe, I softened the butter before I made the crumbs and it was a disaster.
The last line in the instructions says to dust the cake with confectioners sugar.   When I dust something with sugar, I use a tea strainer.  It makes dusting with confectioners sugar really easy.
Everyone thinks this cake is difficult to make. It's actually quite easy. I hope you try it and I hope you like it. My boys do!
This is my friend Pam's grandmother's recipe.
NB: When making the crumbs, please note that they will look like sand before they turn to crumbs. Once you see a sand-like consistency, continue to pulse until crumbs begin to form. Once you see lumps forming, you should be done. If you continue to pulse in the food processor, the crumbs may turn to a dough-like consistency. If this happens, use a fork to turn the dough into crumbs for the top of the cake.
Grandma Sachs' Crumb Cake

Cake:

1/2 cup butter, softened
1 cup sugar
3 eggs
1 tsp. vanilla
1 cup milk
2 cups flour
2 tsp baking powder
1/2 tsp salt

Crumbs:

2 cups flour
1 cup butter, hard (right from the refrigerator)
1/2 cup sugar
2 tbsp cinnamon
1 tsp baking soda

Preheat oven to 350 degrees.

Cream the butter and sugar. Beat in the eggs and vanilla. Alternate adding dry ingredients and milk. Pour into greased 13×9″ pan and bake for 25 minutes.

Meanwhile, make the crumbs. To make crumbs, pulse all ingredients together in a food processor until crumbs form. This process doesn't take longer than a minute or two. The mixture will look like sand first – keep pulsing until crumbs form.

After baking for 25 minutes the cake should be somewhat solid. You want it solid so the crumbs don't sink in. If it's somewhat solid, place the crumbs on top and bake for 10 minutes more. Test for doneness with a toothpick. Cool in pan on a wire rack. Dust with confectioners sugar just prior to serving.