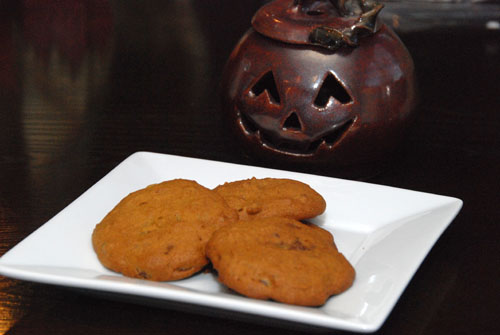 Our boys LOVED these cookies.    They even said they liked them more than my cinnamon chocolate chip cookies, which used to be one of their favorites.   I was surprised because I thought the cookies were pretty good, but they definitely weren't one of my personal favorites.   My mom loved them too.  I met her for lunch in the city last week and gave her a bag of them to eat on the way home on the train.   I'll definitely make them again, and maybe even this afternoon because I have some leftover canned pumpkin that's begging to be used.
The recipe calls for milk chocolate chips.   I didn't have any on hand so I made the cookies with semi-sweet chips and everyone loved them.
These cookies are on the cakey side.  They're a bit like dense muffin tops.   They're definitely not your typical crispy cookie, but they're good nonetheless.
Pumpkin Chocolate Chip Cookies
Adapted from recipe by George Duran

1 stick unsalted butter, softened
1/2 cup white sugar
1/2 cup light brown sugar
1 large egg
1/2 teaspoon vanilla extract
3/4 cup canned pumpkin puree
1 and 1/2 cups all-purpose flour
1/2 teaspoon baking soda
1/4 teaspoon salt
1 teaspoon ground cinnamon
1/4 teaspoon ground nutmeg
1 cup (6-ounce bag) milk chocolate chips (or semi-sweet if you don't have milk)
Nonstick cooking spray or parchment paper

Heat the oven to 350 degrees F.  Spray cookie sheets with nonstick spray or line them with parchment paper.

Using a mixer, beat the butter until smooth. Beat in the white and brown sugars, a little at a time, until the mixture is light and fluffy. Beat in the egg, then mix in the vanilla and pumpkin puree. In a large bowl, whisk together the flour, baking soda, salt, cinnamon and nutmeg.  Slowly beat the flour mixture into the batter in thirds. Stir in the chips. Scoop the cookie dough by heaping tablespoons onto the prepared cookie sheets and bake for 15 to 20 minutes, or until the cookies are browned around the edges. Remove the cookie sheets from the oven and let them rest for 2 minutes. Take the cookies off with a spatula and cool them on wire racks.

Yield:  ~30 cookies

Print This Recipe