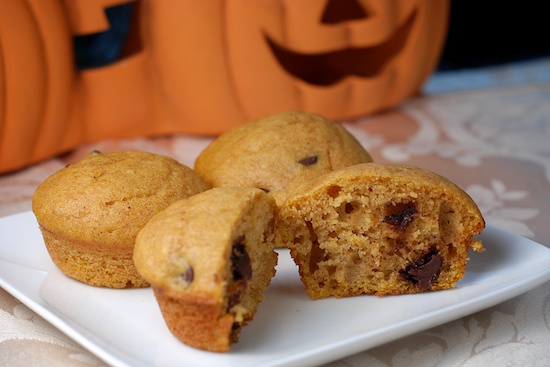 I find that spices in my local supermarket are very expensive, so I find myself buying spices, especially the odd ones that my supermarket doesn't carry, from a website called My Spice Sage. If you can think of a spice, I'm sure they sell it. They sell spices in small increments, so if you're not sure you're going to like a spice, you won't get stuck with a lot of it in the event that you don't.
Whenever I see a recipe that makes a large quantity, and I've never tried it before, I tend to cut the recipe in half for my initial test. I chose to do that with this recipe. I cut the ingredients in half and made 24 mini-muffins instead of 12 regular muffins. Mini-muffins are just so easy for the boys to pop into their mouths for breakfast.
3 out of 4 of my boys really liked these. I think the chocolate chips were the big sellers for the boys.
Pumpkin Chocolate Chip Muffins
Recipe from MySpiceSage.com

1 1/2 cups granulated sugar
2/3 cup vegetable oil
4 eggs
1 1/2 cups pumpkin puree (canned or fresh)
1/2 cup buttermilk
3 cups all-purpose flour
1 1/2 teaspoons baking powder
1 teaspoon baking soda
2 teaspoons pumpkin pie spice
1/8 teaspoon ground cloves
1/2+ 1/8 teaspoons fleur de sel salt
1 cup semisweet chocolate morsels

Preheat oven to 375 degrees Fahrenheit and grease a muffin tin.

In a large bowl mix granulated sugar with all wet ingredients (eggs, vegetable oil, pumpkin puree and buttermilk).

In a medium sized bowl, mix all remaining dry ingredients (all-purpose flour, baking powder, baking soda, pumpkin pie spice, ground cloves, fleur de sel salt) except chocolate morsels.

With a wire whisk or electric beater, add dry ingredient bowl to wet ingredient bowl in three stages, scraping down sides of the large bowl in between stages. Once mixture looks smooth and lump free, fold in chocolate morsels with a rubber spatula.

Fill muffin tins 2/3 of the way up with pumpkin muffin batter and bake in the oven on center rack for 20 minutes (or 10-12 minutes if you're making mini-muffins) or until tops of muffin are lightly browned and a toothpick comes out clean from the center of a tester muffin.

Yield: 12 muffins or 24 mini-muffins
One year ago: Five-Treasure Fried Rice
Two years ago: Cream Biscuits
Three years ago: Cinnamon Muffins


Print This Recipe