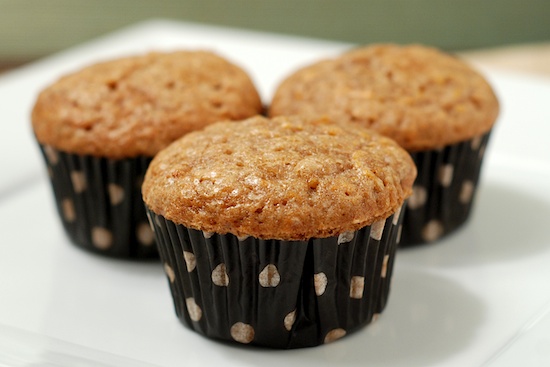 This is a perfect fall recipe because it calls for a fresh pumpkin. It's perfect to make just after Halloween when you may have a pumpkin or two kicking around the house.  Be sure to use a pumpkin suited for baking – not all of them are.  The big pumpkins that we buy to carve for Halloween are not great for baking.  Smaller sugar pumpkins are much better.
This is actually a pumpkin bread recipe that I decided to turn into muffins. I had a small pumpkin in the house that needed to be eaten. I've never made a pumpkin bread recipe using fresh pumpkin before. It takes a little more time than just measuring the pumpkin puree from a can, but it's worth it, and it's nice to know that the pumpkin is fresh. To get the grated pumpkin, I used my food processor with a grating disk. I thought about using a box grater, but the food processor was much faster.
I topped the muffins with a little turbinado sugar which gave them a nice crunchy top when they came out of the oven.
Pumpkin Muffins
Recipe by Alton Brown

2 cups all-purpose flour
2 teaspoons cinnamon (I added 1/2 teaspoon of pumpkin pie spice as well)
1 teaspoon baking soda
1/4 teaspoon baking powder
1/2 teaspoon salt
1 1/2 cups sugar
3/4 cup vegetable oil
3 large eggs
1 teaspoon vanilla extract
3 cups shredded fresh pumpkin (I used my food processor to shred the pumpkin)
1 1/2 tablespoons turbinado sugar
Preheat the oven to 325 degrees F.   Sift the flour, cinnamon, pumpkin pie spice (if using), baking soda, baking powder, and salt together.

In a separate bowl, mix the sugar, vegetable oil, eggs, and vanilla. Combine both mixtures and fold in the shredded pumpkin. Once the ingredients are all incorporated pour into a non- stick 9 by 5 by 3-inch loaf pan. If your pan is not non- stick coat it with butter and flour.   Sprinkle turbinado sugar on top of the muffins.

Bake for 1 hour and 15 minutes. At this point a knife inserted into the middle of the loaf should come out clean. Cool for 15 minutes and turn out onto a cooling rack. Cool completely. For muffins temperature should also be 325 degrees F., but bake for 30 minutes.

Yield: 12 muffins

One year ago: Go Green Calzone

Print This Recipe