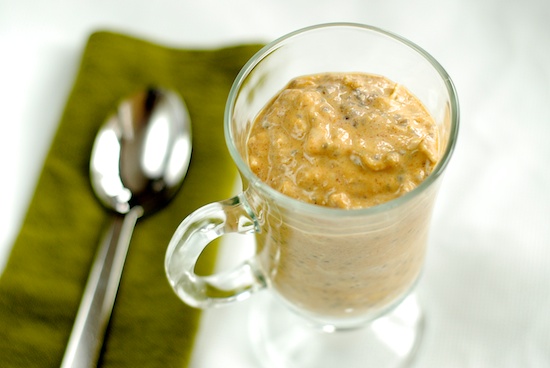 I mentioned in my last post how much I loved refrigerator oatmeal, and I wasn't kidding. I have two batches of this pumpkin spice oatmeal marinating in my refrigerator right now. Tomorrow's breakfast is going to be good!
In the fall, I make these pumpkin muffins quite a bit for the boys. When I first made them, I frosted them, but now I don't. They're so moist that they don't really need the frosting. When I make them, there's always some pumpkin left over. This oatmeal is a perfect way to use the extra pumpkin puree. You can make two batches of oatmeal with the remaining pumpkin.
I have a couple of peaches in my refrigerator. I might try to make a peach version next!
Pumpkin Pie Oatmeal
Recipe found on The Yummy Life blog

1/4 cup uncooked old fashioned rolled oats
1/3 cup milk
1/4 cup low-fat Greek yogurt
1-1/2 teaspoons dried chia seeds
scant 1/2 teaspoon pumpkin pie spice
2 teaspoons maple syrup (or to taste)
1/4 cup pumpkin puree (unsweetened canned pumpkin)

Add all of the ingredients to a jar (I used a mason jar – any covered container will do). Shake well to combine. Let rest in the refrigerator overnight. Enjoy the next day! Eat it chilled.

Yield: 1 serving

One year ago: Mustard Roasted Potatoes
Two years ago: Indian Summer Gratin with Butternut Squash, Corn, Potatoes and Bacon
Three years ago: Lemon Mascarpone Mousse
Four years ago: Chicken Salad with Apple and Basil

Print This Recipe