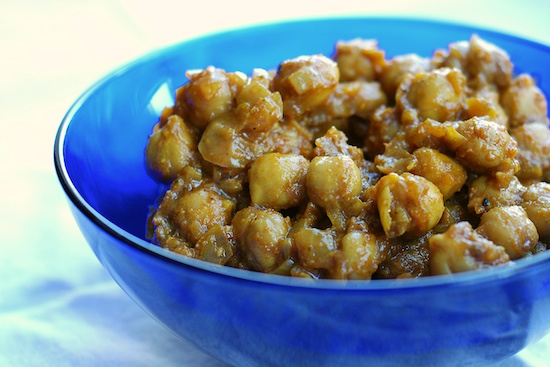 This is a really delicious recipe and it has become part of our regular dinner rotation.  My husband and I both really love it.   I love the fact that it's really easy to make and that I almost always have all of the ingredients on hand.  Most of the cooking is also hands-off, which is nice.   The only downside to this recipe is that it makes our entire apartment smell like curry, so I burn a strongly scented candle whenever I make it, to counteract the curry smell.
The recipe calls for curry. My husband likes things a little spicy, so I use hot curry instead of regular curry. Hot curry has cayenne pepper in it which gives it a nice little kick.   I serve this on top of whole wheat cous cous with a side salad. It was a perfect vegetarian meal and it was quite filling.
Will the boys eat this?   No way!   I actually got one of my sons to try it, but he really didn't care for the flavor.   I'm hoping that one of these days they come around.
Quick Chickpea Curry
Recipe from marthastewart.com

1 tablespoon olive oil
1 large yellow onion, diced small
3 garlic cloves, minced
1 tablespoon curry powder
1 cinnamon stick (3 inches)
Pinch of ground cloves
2 cans (15 ounces each) no-salt-added chickpeas, rinsed and drained
3 tablespoons ketchup
Coarse salt and ground pepper
Chopped cilantro and lemon wedges (optional), for serving

In a large straight-sided skillet, heat oil over medium-high heat. Add onion and cook, stirring occasionally, until dark brown around edges, about 6 minutes. Add garlic, curry, cinnamon, and cloves and cook, stirring, until fragrant, 30 seconds. Add chickpeas, ketchup, 1/2 teaspoon salt, 1/4 teaspoon pepper, and 2 cups water. Bring to a boil; reduce to a simmer, cover, and cook 20 minutes. Uncover, and increase heat to medium-high; cook until sauce is slightly reduced, 5 minutes. Serve topped with cilantro, with lemon wedges alongside if desired.

Yield: 4 servings

One year ago: Asian Pork Tenderloin
Two years ago: Black Bean Brownies
Three years ago: Sugar Spiced Nuts

Print This Recipe