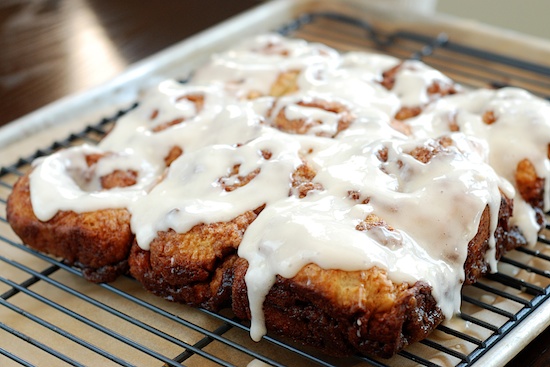 I'm a sweets person at heart. I try so hard to cook healthy meals, but I'm perpetually drawn to sweet baked treats like these. I made these the other day for the boys' breakfast and each boy gave them a double thumbs up.
These cinnamon rolls are very easy to make. Unlike most cinnamon roll recipes, they don't use yeast, which dramatically cuts down on the preparation time.   They're slightly heavier than rolls made with yeast, but they're still delicious.
The recipe asks you to grease the pan.   If you're using a non-stick pan, please don't use Pam.   Please use either butter or a little bit of oil.  Pam (or spray oil) and non-stick pans don't agree.   It can leave dark, sticky spots on your pans that are very difficult to remove.
I didn't have a nonstick round cake pan so I made my cinnamon buns in a 9″ square pan. The recipe is supposed to make 8 buns, but I cut my roll into 9 pieces so they fit nicely in my pan. Once these go into the oven, your home will smell incredible.
These are best eaten soon after they come out of the oven.
Quick Cinnamon Buns with Buttermilk Icing
Recipe from America's Test Kitchen
1 tablespoon unsalted butter , melted, for pan

Cinnamon-Sugar Filling

3/4 cup dark brown sugar(packed, 5 1/4 ounces)
1/4 cup granulated sugar(1 3/4 ounces)
2 teaspoons ground cinnamon
1/8 teaspoon ground cloves
1/8 teaspoon table salt
1 tablespoon unsalted butter, melted

Biscuit Dough

2 1/2 cups unbleached all-purpose flour(12 1/2 ounces), plus additional flour for work surface
2 tablespoons granulated sugar
1 1/4 teaspoons baking powder
1/2 teaspoon baking soda
1/2 teaspoon table salt
1 1/4 cups buttermilk
6 tablespoons unsalted butter, melted

Icing

2 tablespoons cream cheese, softened
2 tablespoons buttermilk
1 cup confectioners' sugar(4 ounces)

Place your oven rack in the upper-middle position and preheat your oven to 425 degrees.  Pour 1 tablespoon melted butter in 9-inch nonstick round cake pan; brush to coat pan. Spray wire rack with nonstick cooking spray; set aside.

To make cinnamon-sugar filling: Combine sugars, spices, and salt in small bowl. Add 1 tablespoon melted butter and stir with fork or fingers until mixture resembles wet sand; set filling mixture aside.

To make biscuit dough: Whisk flour, sugar, baking powder, baking soda, and salt in large bowl. Whisk buttermilk and 2 tablespoons melted butter in measuring cup or small bowl. Add liquid to dry ingredients and stir with wooden spoon until liquid is absorbed (dough will look very shaggy), about 30 seconds. Transfer dough to lightly floured work surface and knead until just smooth and no longer shaggy.

Pat dough with hands into 12 by 9-inch rectangle.  Use a ruler if you need to.   Following illustrations found here (scroll to the bottom of the page for illustrated instructions), fill, roll, cut, and arrange buns in buttered cake pan. Brush with 2 tablespoons remaining melted butter. Bake until edges are golden brown, 23 to 25 minutes. Use offset metal spatula to loosen buns from pan; without separating, slide buns out of pan onto greased cooling rack. Cool about 5 minutes before icing.

To make icing and finish buns: While buns are cooling, line rimmed baking sheet with parchment paper (for easy cleanup); set rack with buns over baking sheet. Whisk cream cheese and buttermilk in large bowl until thick and smooth (mixture will look like cottage cheese at first). Sift confectioners' sugar over; whisk until smooth glaze forms, about 30 seconds. Spoon glaze evenly over buns; serve immediately.

Yield: 8 or 9 buns
One year ago: Butter and Jam Thumbprints
Two years ago: Grilled Potato Slices with Salt and Vinegar
Three years ago: Frozen Grapes
Four years ago: Outrageous Brownies

Print This Recipe