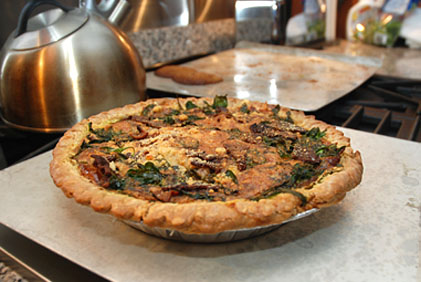 Sometimes I want something a little different for dinner, so occasionally I'll throw together a quiche. Paired with a side salad, it makes a nice dinner. This quiche is definitely robust enough to be served as a main dish because it's full of eggs, cheese, bacon and spinach.
We are hosting a lovely student from Italy for two weeks and she has never had quiche before so I made this the other night. She either really enjoyed it or she was being terribly polite.
In addition to being a good dinner, quiche in my opinion is always great for breakfast and lunch too. We ate the leftovers for breakfast. I heated mine up and my husband ate his cold. Both were good.
I always cook the quiche on a cookie sheet in case it drips.
If you want a lower cholesterol version of the quiche, you can substitute 3 of the eggs for an equivalent amount of Egg Beaters.   
When I make this, I use frozen, pre-cooked bacon.   I always have a big package in the freezer.  I buy it at Costco.   It's called Kirkland Signature precooked bacon by Hormel and it's perfect for a recipe like this.   
Spinach and Bacon Quiche
Adapted from recipe by Paula Deen

6 large eggs, beaten
1 cup heavy cream
Salt and pepper
2 cups chopped fresh baby spinach, packed
1 pound bacon, cooked and crumbled
1 1/2 cups shredded Swiss cheese
3 tablespoons shredded Pecorino Romano cheese
1 9-inch refrigerated pie crust, fitted to a 9-inch glass pie plate

Preheat the oven to 375 degrees F.  Combine the eggs, cream, salt, and pepper in a food processor or blender. Layer the spinach, bacon, and cheese in the bottom of the pie crust, then pour the egg mixture on top.   Sprinkle the Romano cheese on top.  Bake for 35 to 45 minutes until the egg mixture is set. Cut into 8 wedges.