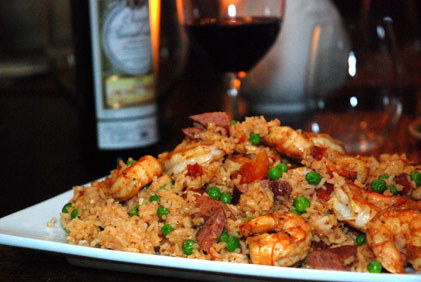 This is one of those meals that I throw together when company comes by at the last minute.   I usually have most of the ingredients on hand, with the exception of the chorizo or kielbasa, but living in NY, we have the privilege of having markets every couple of blocks.
When I was growing up, one of the meals that was part of our standard rotation was Spanish Rice.   I looked forward to those nights.   It was a similar dish to this one, but in place of the shrimp and sausage in this recipe, it had bacon.  Yum!   I'll have to get the recipe from my mom so I can make it to see how it compares to this one, which has become a staple in our house.   Now if the boys would only eat it…
I like this recipe because the preparation can be shared.   Whenever we have friends over for dinner, the gang tends to congregate in our small kitchen.   Friends inevitably ask how they can help, and if you're making this recipe, you'll have plenty of things for them to do.    Someone can peel the shrimp, cut up the sausage,  chop the onions, etc.   Give everyone a glass of wine and get them prepping!
In order to make this, you'll need a skillet or a pan that can go from the stove to the oven.
Skillet Shrimp and Rice
From Cooks Country Magazine

1 1/2 pounds extra-large shrimp, peeled and deveined
2 tablespoons plus 1 teaspoon extra-virgin olive oil
1 teaspoon paprika
Salt
4 ounces chorizo or kielbasa sausage, cut into 1/4 inch pieces
1 medium onion, chopped fine
6 medium garlic cloves, sliced thin
1 1/2 cups medium grain rice
1 (14 1/2-ounce) can diced tomatoes, drained
2 cups water
1 (8-ounce) bottle clam juice
1 cup frozen peas
Pepper

Adjust oven rack to middle position and heat oven to 350 degrees.  Toss shrimp with 1 tablespoon oil, paprika, and 1/4 teaspoon salt in medium bowl.  Heat 1 teaspoon oil in large ovenproof skillet over medium-high heat until smoking.  Add half of shrimp and cook until lightly browned, 30 to 40 seconds.  Turn shrimp and cook 30 seconds longer.  Transfer shrimp to clean bowl.  Repeat with remaining shrimp.  Cover bowl and set aside.

Reduce heat to medium and add remaining 1 tablespoon oil, sausage, onion and garlic.  Cook until sausage begins to brown, 5 to 6 minutes.  Add rice and cook 1 minute.  Stir in tomatoes, water, clam juice and 1/2 teaspoon salt.  Bring to boil over high heat, cover and transfer skillet to oven.  Cook until rice is tender and liquid is absorbed, about 20 minutes.  Remove skillet from oven, stir in peas, and scatter shrimp over top.  Cover and set aside until shrimp and peas are heated through, about 5 minutes.  Season with salt and pepper.  Serve directly from hot skillet.

Yield:  4 – 6 servings

Print This Recipe