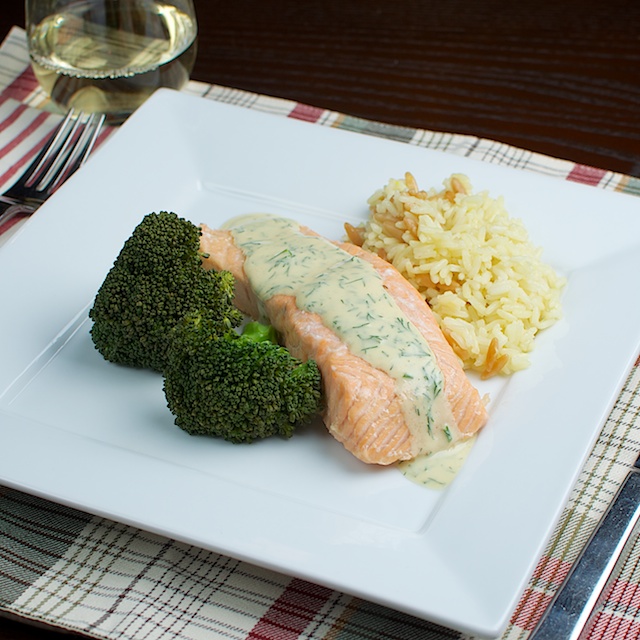 This was last night's dinner.  My husband loved it, and he's not a huge salmon fan. The sauce did it for him. It's a very tangy, mustardy sauce and it turned him into a salmon-fan last night. I found him putting the sauce on his broccoli too. I loved the poached salmon, but the sauce was a bit too mustardy for me. Don't get me wrong – it was good.   I ate it all, and I even put a little of the sauce on my broccoli, but next time I make this, I'll make the sauce using slightly less mustard.  I'll pour a little into a bowl for myself, then I'll add the rest of the mustard.  I have my eye on a Julia Child poached salmon recipe next.  Hers has a cucumber sauce.   I'll let you know how it turns out.
I have never poached salmon before. It was delicious poached in white wine. In addition, it was flaky and moist when it was done. Our apartment didn't smell like fish either, which was nice.
Not a single boy was interested in trying the salmon. Even without the sauce. Their loss – it was really good.
Quick Poached Salmon with Mustard Dill Sauce
Recipe adapted from AllRecipes.com

1/4 cup plain yogurt
2 Tablespoons Dijon mustard
1/2 tablespoon honey
2 Tablespoons fresh lemon juice
1 1/2 tablespoons chopped fresh dill
1 pound salmon
1 cup white wine
1/2 cup water

In a small bowl, blend the plain yogurt, Dijon mustard, honey, lemon juice, and dill. Cover, and refrigerate until serving.

In a medium saucepan over medium heat, place the salmon in the white wine and water. Adjust the amount of water as necessary to just cover the fish.

Cover the saucepan, and cook 10 to 12 minutes, until salmon is easily flaked with a fork. Drain, and serve with the yogurt sauce.

Yield: 3 – 4 servings

One year ago: Apple Mosaic Tart with Salted Caramel
Two years ago: Chicken Pot Pie
Three years ago: Pumpkin Muffins
Four years ago: Go Green Giant Calzone

Print This Recipe