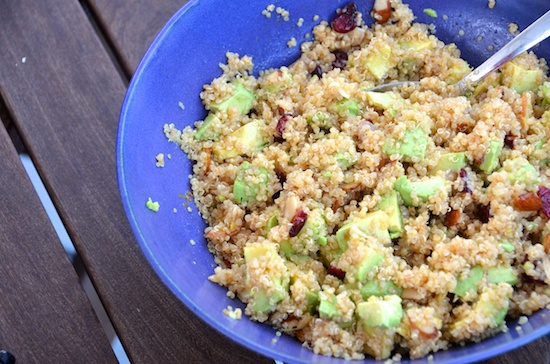 I think I'm going to have to get a better picture of this dish.  I made it the other night when we had some friends over for dinner.   It's a terrific combination of flavors and textures.   The avocado is smooth and creamy (if it's ripe), the nuts are crunchy and the fruit chewy.
Here are my observations about the recipe.   The dressing is absorbed immediately when you pour it on the quinoa.   There is not a drop of extra dressing left at the bottom of the bowl.  As an experiment, I might increase the dressing by 50% next time I make it.  You can make this recipe using any dried fruit you have on hand.   The original recipe called for raisins and dried apricots. I don't love raisins and didn't have any dried apricots, so I substituted dried mangoes and dried cranberries. Delicious!
Made this again last night for more company and it was a hit.   Everyone gobbled it up.
Quinoa and Avocado Salad with Dried Fruit, Toasted Almonds, and Lemon-Cumin Vinaigrette
Recipe from FineCooking.com

3 Tbs. dried cranberries (or raisins)
2 Tbs. dried mango (or apricots), thinly sliced
1 cup red or white quinoa, rinsed well
Kosher salt
1 large lemon
3 Tbs. extra-virgin olive oil
1/4 tsp. ground coriander
1/4 tsp. ground cumin
1/4 tsp. sweet paprika
2 medium firm-ripe avocados (6 to 7 oz. each), pitted, peeled, and cut into 1/2-inch chunks
2 medium scallions, white and light green parts only, thinly sliced
2 to 3 Tbs. coarsely chopped toasted almonds
Freshly ground black pepper

In a 2-quart saucepan, bring 2 cups water, the quinoa, and 1/2 tsp. salt to a boil over high heat. Cover, reduce the heat to medium low, and simmer until the water is absorbed and the quinoa is translucent and tender, about 15 minutes. (The outer germ rings of the grain will remain chewy and white. Some germ rings may separate from the grain and will look like white squiggles.) Immediately fluff the quinoa with a fork and turn it out onto a baking sheet to cool to room temperature.

Finely grate the zest from the lemon and then squeeze the lemon juice into a bowl. In a small bowl, whisk the lemon zest and juice with the olive oil, coriander, cumin, paprika, and 1/4 tsp. salt. In a large bowl, toss the vinaigrette with the quinoa, raisins, apricots, avocado, scallions, and almonds. Season to taste with salt and pepper and serve.

Yield: 4 servings

One year ago: Crisp Flatbread with Honey, Thyme and Sea Salt
Two years ago: Zucchini and Ricotta Galette
Three years ago: Shrimp Salad

Print This Recipe