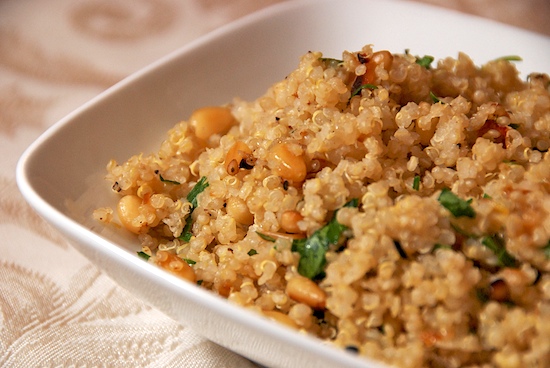 I'm on a quest to put more healthy food on the table AND to get my sons to try some of it.   I know it's a lofty goal, but I'm going to do my best to accomplish it in 2010.    I figure if I can get my boys to try new food – even if they decide they don't like it, I'll be ahead of the game.  At least I'll be exposing their palates to it, which is something.
A couple of my sons HATE any kind of meat, so I'm always looking for other protein sources for them.   Quinoa might not look like a good protein source, but it is.   It has a protein content of 12-18% and it's also loaded with great amino acids.   Being gluten-free, it's easy to digest.   Not a bad thing to eat.    On its own, I don't find it very exciting, but you can do a lot of things to jazz it up, like cook it in chicken or vegetable broth, or add nuts, herbs or spices.
I thought this was a really tasty side dish and I'll definitely make it again.  My husband really liked it also.   My boys were another story.   I got one of my non-meat eaters to try it.   He said he didn't care for it.   The other non-meat eater wouldn't have any part of trying it.   I was tempted to force him, but I've read a lot of books about getting children to eat and if there's one common theme, it's to keep the dinner table from becoming a battlefield.   Although I'm tempted to force him to try new things, I know it will become a huge issue with crying, so I opt not to do it.   If you have any suggestions for me, I'd love to hear them.   If they work, I'll be eternally grateful.
This quinoa recipe is definitely worth trying.   I'm going to be trying others in the future, so stay tuned for more healthy recipes (amidst all of the recipes for sweets that I post!)
Quinoa Pilaf with Pine Nuts
Recipe by Ellie Krieger

2 cups low-sodium chicken broth
1 cup quinoa, rinsed
1/4 cup pine nuts
1 tablespoon olive oil
1/2 large onion, chopped
1/3 cup chopped fresh parsley leaves
Salt and pepper

Put the broth and quinoa in a medium sized saucepan and bring to a boil. Reduce heat to a simmer, cover and cook for 15 to 20 minutes, until liquid is absorbed and grain is tender.

Meanwhile, toast the nuts in a large dry skillet over medium-high heat until golden brown and fragrant, about 2 minutes, stirring frequently. Remove nuts from pan and set aside. Heat the oil in the same skillet over a medium-high heat. Add the onions and cook stirring occasionally, until the onions soften and begin to brown, about 6 minutes.

When the quinoa is done, fluff with a fork and transfer to a large serving bowl. Stir in the pine nuts, onions, and parsley. Season with salt and pepper and serve.

Yield:  6 servings

Print This Recipe