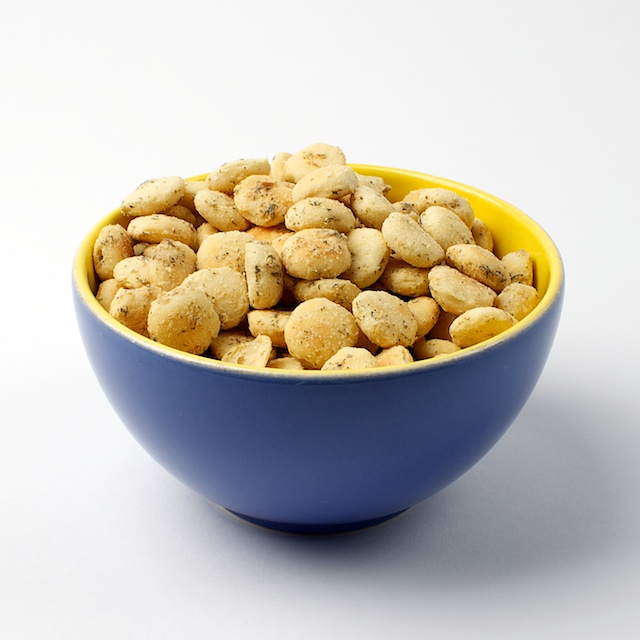 Our boys LOVE oyster crackers. Not in soup. By themselves. They don't have a lot of flavor, but that doesn't seem to bother the boys. They could eat oyster crackers by the barrel.
This summer, I found a recipe for ranch flavored oyster crackers. The recipe called for a package of ranch salad dressing mix. I bought a packet at the grocery store and I tried the recipe. The crackers were delicious. The ranch dressing mix gave them a real punch of flavor. Then I realized the downside. Ranch dressing mix contains MSG, maltodextrin and artificial flavors (and you never quite know what that means.) 🙁 I wrote about the oyster crackers this past summer, but didn't post a recipe because I don't want to promote consuming MSG. One of my readers pointed out that it was pretty easy to make homemade ranch salad dressing mix, so that's what I did.
My kids gobbled these up. One son would have eaten a whole bowl for dinner if I had let him. These are a really tasty snack. Great to serve at a party.
Ranch Oyster Crackers
Recipe from AllRecipes.com


1 ounce Ranch dressing mix
1/4 cup vegetable oil
5 cups oyster crackers

Preheat oven to 250 degrees F (120 degrees C).

In a large bowl, combine the dressing mix, vegetable oil and oyster crackers. Toss to coat. Spread evenly on a baking sheet.

Bake for 15 to 20 minutes in the preheated oven, stirring gently after 10 minutes. Remove from oven, and allow to cool before serving.


Ranch Dressing Mix
Recipe from Snappy Gourmet

1/2 cup dried buttermilk powder
1 tablespoon dried parsley, crushed
2 teaspoons dried dill
2 teaspoons onion powder
1 teaspoon salt
1 teaspoon garlic powder
1/4 teaspoon black pepper

Combine all of the ingredients in a blender and blend for a few seconds.

Store the extra dressing mix in an airtight container.


Yield: 5 cups of crackers

One year ago: Shrimp Stew with Coconut Milk, Tomatoes and Cilantro
Two years ago: Pumpkin Chocolate Chip Muffins
Three years ago: Five-Treasure Fried Rice
Four years ago: Cream Biscuits
Five years ago: Cinnamon Muffins

Print This Recipe