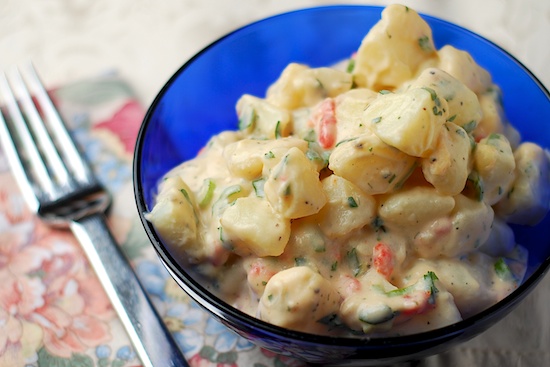 I subscribe to some recipe newsletters and this recipe came to me recently be email. I love a good potato salad in the summer, and this looked interesting enough for me to want to give it a try. This is currently my go-to potato salad recipe, and I love it, but the thought of ranch dressing on potatoes piqued my interest.
This potato salad is nice and tangy because of the vinegar in it. I didn't have white wine vinegar, so I used champagne vinegar. I figured it was close enough. I made one other change to the recipe. I chose not to add any salt to the recipe other than the salt that I put in the water used to boil the potatoes. The salted water gave the potatoes a slightly salty flavor and that was good enough for me. You can always add salt to food on your plate, but you can never take it away once added to a recipe.
I'll definitely make this again as an alternative to my standard potato salad.
Ranch Potato Salad
From CooksCountry.com
3 pounds red potatoes, peeled and cut into 3/4-inch chunks
3/4 cup mayonnaise
1/2 cup buttermilk
1/4 cup white wine vinegar
1/4 cup drained jarred roasted red peppers, chopped fine
3 tablespoons finely chopped fresh cilantro leaves
3 scallions, chopped fine
1 garlic clove, minced
1/8 teaspoon dried dill
2 teaspoons pepper
2 tablespoons Dijon mustard

Bring potatoes, 1 tablespoon salt, and enough water to cover by 1 inch to boil in large pot over high heat. Reduce heat to medium and simmer until potatoes are just tender, about 10 minutes. While potatoes simmer, whisk mayonnaise, buttermilk, 2 tablespoons vinegar, red peppers, cilantro, scallions, garlic, dill, 1 teaspoon salt, and pepper in large bowl.

Drain potatoes, then spread in even layer on rimmed baking sheet. Whisk mustard and remaining vinegar in small bowl. Drizzle mustard mixture over hot potatoes and toss until evenly coated. Refrigerate until cooled, about 30 minutes.

Transfer cooled potatoes to bowl with mayonnaise mixture and toss to combine. Cover and refrigerate until well chilled, about 30 minutes. Serve. (Salad can be refrigerated in airtight container for 2 days.)

Yield:  6 – 8 servings

Print This Recipe