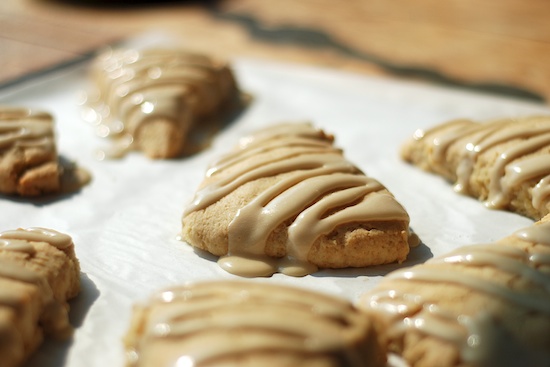 These scones came out of the oven about 20 minutes ago, they cooled, I glazed them, and within 3 minutes all eight were devoured.   One of my sons is asking me to make more right now.   We're on Shelter Island with house guests, so there were lots of people to share them.
The scones themselves are light and not terribly sweet.  The glaze is very sweet which is a nice complement.  Warm out of the oven, these are delicious.
The original recipe was for maple scones.   I have two very bad habits when I cook – I never read the entire recipe before I launch into it, so often I get to the middle of the recipe only to find that whatever I'm making needs to either chill or marinate for hours.   Not great when you're planning to serve the dish in an hour.  My other bad cooking habit is not checking to see if I have all of the ingredients on hand.   This is usually ok in NY where I'm the only cook and I know when I run out of something, but when there are lots of people in and out of the kitchen, there's no telling what has disappeared.  This morning it was the maple syrup.  There was only about 1/8 cup of maple syrup left in the house so I had to improvise.
My cousins Chris and Emily came to visit earlier this summer and they brought some delicious treats from Stonewall Kitchen.   One of them was this raspberry syrup. It was a perfect substitute for the maple syrup in this recipe. Since I don't always have raspberry syrup on hand, I'll definitely try to make this recipe using only maple syrup sometime.
I didn't have confectioners sugar on hand either, so I used superfine sugar. The glaze didn't get as thick as it might have, and it was a tiny bit granular, but the taste was fantastic. This recipe is a keeper.
Two weeks later – I ran out of the raspberry syrup, so I have made these three times now as maple scones, and they're wonderful! I like the maple scones as much as I liked the raspberry ones.
Raspberry Maple Tea Scones
Recipe adapted from epicurious.com

3 cups all purpose flour
4 tablespoons (packed) dark brown sugar
1 1/2 teaspoons baking powder
1/2 teaspoon baking soda
1/2 teaspoon salt
3/4 cup (1 1/2 sticks) chilled unsalted butter, cut into 1/2-inch pieces
1/2 cup (or more) plus 6 tablespoons half and half
1/2 cup plus 2 tablespoons pure maple syrup or raspberry syrup

2/3 cup (about) powdered sugar

Preheat oven to 375°F. Put the cut-up butter in the freezer for a few minutes to keep it cold. Whisk flour, 2 tablespoons dark brown sugar, baking powder, baking soda and salt in large bowl to blend. Add butter and rub in with fingertips until mixture resembles coarse meal. Stir 1/2 cup half and half and 1/2 cup maple/raspberry syrup in small bowl to blend. Gradually add cream mixture to flour mixture, stirring just until dough comes together and adding more cream by tablespoonfuls if dough is dry. Turn dough out onto lightly floured surface. Knead dough gently until smooth, about 5 turns. Using floured hands, pat out dough to 8-inch round; cut dough into 8 wedges. Transfer wedges to baking sheet lined with parchment, spacing 2 inches apart.

Bake scones until golden and tester inserted into center comes out clean, about 20 minutes. Transfer to rack.

Meanwhile, whisk remaining 2 tablespoons dark brown sugar, 6 tablespoons whipping cream and 2 tablespoons maple syrup in medium bowl to blend. Gradually whisk in enough powdered sugar to form thick glaze.

Drizzle or spread glaze over warm scones. Let stand until glaze sets.

Yield: 8 scones

Print This Recipe