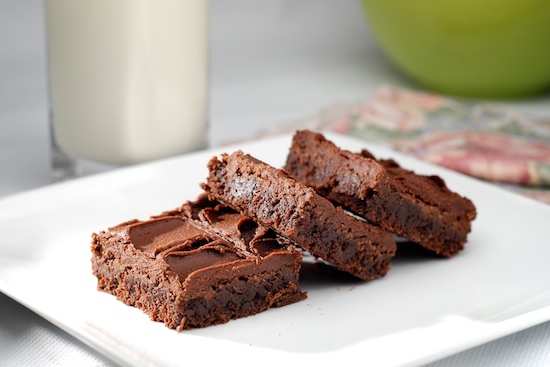 A friend of mine from long ago used to make frosted brownies. I loved them. I asked for the recipe several times, but she would forget to give it to me and I would forget to follow up, so I never ended up with it. I never forgot the brownies though. I can't believe it has taken me this long to find and try a frosted brownie recipe. These were gone the first day I made them.
The recipe calls for instant coffee granules. I used decaf because the boys were going to eat them.
I love that these are more fudgy than cakey, and that they have the added bonus of delicious chocolaty frosting. All in all, a brownie recipe that definitely needs to be made again, and again, and again.
Rich Chocolate Brownies
Recipe from Taste of Home

1 cup sugar
2 eggs
1/2 teaspoon vanilla extract
1/2 cup butter, melted
1/2 cup all-purpose flour
1/3 cup cocoa powder
1/4 teaspoon baking powder
1/4 teaspoon salt

Frosting:
3 tablespoons cocoa powder
3 tablespoons butter, melted
2 tablespoons warm water
1 teaspoon instant coffee granules
1-1/2 cups confectioners' sugar

In a large bowl, beat the sugar, eggs and vanilla. Beat in butter. Combine the flour, cocoa, baking powder and salt; gradually add to batter and mix well.

Pour into a greased 8-in. square baking dish. Bake at 350° for 25-30 minutes or until a toothpick inserted near the center comes out clean. Cool on a wire rack.

For frosting, combine the cocoa and butter. Combine the water and coffee granules; add to cocoa mixture. Stir in sugar until smooth. Frost brownies.

Yield: 12 brownies

One year ago: Barefoot Carrot Salad
Two years ago: Cauliflower and Parmesan Cake
Three years ago: Krumkake
Four years ago: Snickerdoodles

Print This Recipe