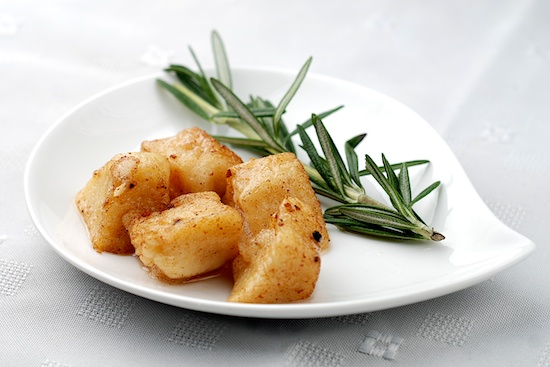 If I didn't know better, I'd guess that this was a photo of scallops.
I enjoy gnocchi but never attempted to make them before. I don't know why I waited. These were a cinch to make – they came together in less than 30 minutes. Most of the gnocchi recipes that I have seen in the past contained potatoes and I had heard that they were challenging to make. I was intrigued when I found this recipe that contained ricotta instead.
The dough will be very soft when you mix it, so use plenty of flour on both your hands and on the surface where you're going to roll them. If the dough gets too soft, you can always refrigerate it for a bit, or toss the dough into the freezer, so it firms up.
The gnocchi freeze very well. Freeze them individually on a cookie sheet and when frozen, put them into an airtight container.
Ricotta Gnocchi
Recipe from Gourmet.com

2 cups whole-milk ricotta (1 lb)
2 large eggs, lightly beaten
1 1/2 cups grated Parmesan cheese (3 oz), divided
1/4 teaspoon grated nutmeg
1 1/4 cups all-purpose flour
1/2 stick unsalted butter
1 (2-inch) rosemary sprig
1/4 teaspoon chopped garlic

Stir together ricotta, eggs, 1 cup Parmesan cheese, nutmeg, and 1/4 teaspoon each of salt and pepper. Add flour, stirring to form a soft, wet dough.

Shape dough on a well-floured surface with lightly floured hands into 4 (1-inch-thick) ropes. Cut crosswise into 1-inch pieces with a lightly floured knife. Put in 1 layer on a lightly floured parchment-lined baking sheet.

Cook gnocchi in 2 batches in a pasta pot of boiling salted water (3 tablespoons salt for 6 quarts water), adding a few at a time to pot and stirring occasionally, until cooked through, 3 to 4 minutes per batch. Gnocchi will float to the top of the water when they're cooked. Lift out with a slotted spoon and drain in colander, or put them directly into the butter sauce, if it's ready.

Meanwhile, cook butter with rosemary in a 12-inch heavy skillet over medium-low heat until golden brown, about 4 minutes. Once the butter has browned, add 1/4 tsp. of garlic. Cook for an additional minute.

Toss gnocchi with brown butter in skillet and sprinkle with remaining 1/2 cup cheese. Season with salt.

Yield: 4 servings

Print This Recipe