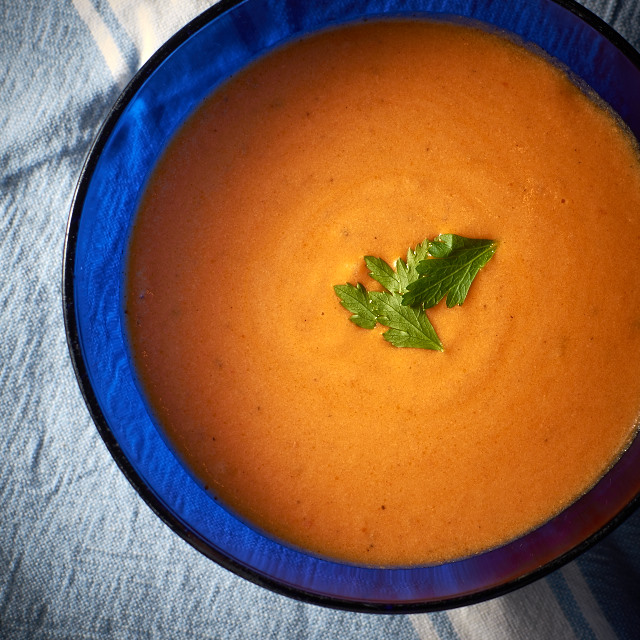 One of my favorite recipes to make with roasted red peppers is this Orzo dish. I always end up with extra roasted peppers. This soup recipe is a great way to use them up. This soup is now one of my favorites. If you don't have jarred, roasted red peppers, you can buy red bell peppers and roast them yourself.
This recipe calls for chicken stock, but if you would like to make it vegetarian, feel free to substitue vegetable stock.
This recipe couldn't be easier. You basically dump almost all of the ingredients into a blender and puree. You then put it in a saucepan, season it and heat. That's it. When I made it, following the directions exactly, it was a little too thin for my liking, so I took two cooked potatoes and pureed them into the soup. It then had the perfect consistency for me. My husband loved it too. The boys? Nope.
Roasted Red Pepper and Ricotta Soup
Recipe from Cooking Light Magazine, April 2016

2 1/2 cups unsalted chicken stock
1 cup part-skim ricotta cheese
1/2 cup half-and-half
1/2 teaspoon freshly ground black pepper
1 (16-ounce) jar roasted red bell peppers, rinsed and drained
1 garlic clove
2 small cooked potatoes (optional)
1 tablespoon fresh lemon juice
1/2 teaspoon kosher salt
1 tablespoon chopped fresh chives (optional)

Combine first 6 ingredients and potatoes, if using, in a blender; process 1 minute or until smooth.

Pour mixture into a large saucepan over medium heat; bring to a simmer. Stir in lemon juice and salt. Divide soup among 4 bowls; garnish with chives, if using.

Yield: 4 servings

One year ago: Nonna Luna's Rice
Two years ago: Chocolate Nudges
Three years ago: Sugar Saucers
Four years ago: Banana Bars with Cinnamon Cream Cheese Frosting
Five years ago: Jerk Shrimp Mini Pies
Six years ago: Chocolate Stout Cupcakes
Seven years ago: Black and White Cookies
Eight years ago: Lasagna with Pink Sauce, Leeks and Sausage

Print This Recipe