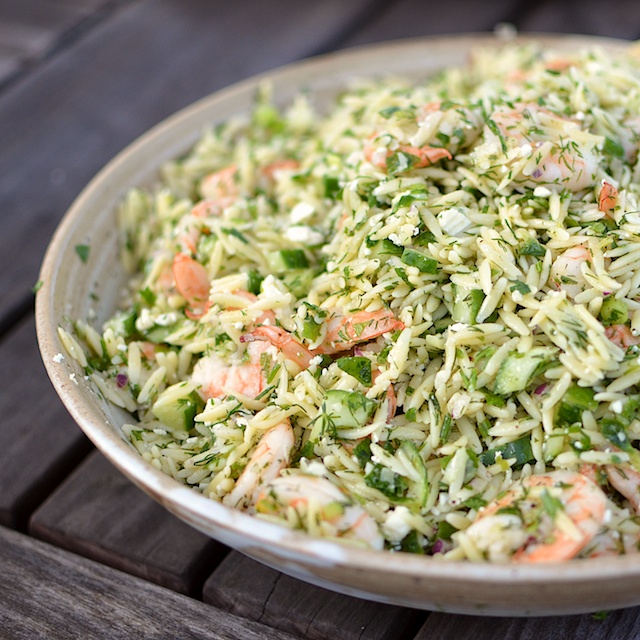 For me, there is nothing better than a summer meal that is loaded with fresh herbs. I wish I could convince the boys to agree with me, but they still don't like the look of anything green in their food. Please do tell me that one day they'll outgrow this.
This is a great dish to serve to a crowd. It makes A LOT and you can make it in advance, the day before even. I really liked it, but the next time I make it I'm going to like it even more. This time I used crumbled feta, which almost melted into the dish. Next time I'll buy a block of feta that I'll cut into chunks. I think biting into a distinct chunk of feta will be much better. It will let the taste of the fresh herbs stand out more. Now don't get me wrong, the dish was still delicious with the crumbled feta. I just know it will be much better next time. I will also buy bigger shrimp. The shrimp I used were half the size called for in the recipe. Again, not bad, but they'll be better bigger.
As I've said many times before, you definitely want to use fresh herbs and lemons for this recipe. If you don't have lemons and fresh herbs to use, I'd postpone trying this recipe until you do. This is another one of those recipes where you want to taste it for seasonings before you serve it, and add a little more salt and pepper as necessary.
Roasted Shrimp and Orzo
Recipe from Barefoot Contessa at Home by Ina Garten


Kosher salt
Good olive oil
3/4 pound orzo
1/2 cup freshly squeezed lemon juice (~3 lemons)
Freshly ground black pepper
2 pounds (16 to 18 count) shrimp, peeled and deveined
1 cup minced scallions, white and green parts
1 cup chopped fresh dill
1 cup chopped fresh flat-leaf parsley
1 hothouse cucumber, unpeeled, seeded, and medium-diced
1/2 cup small-diced red onion
3/4 pound good feta cheese, large diced

Preheat the oven to 400 degrees F.

Fill a large pot with water, add 1 tablespoon of salt and a splash of oil, and bring the water to a boil. Add the orzo and simmer for 9 to 11 minutes, stirring occasionally, until it's cooked al dente. Drain and pour into a large bowl. Whisk together the lemon juice, 1/2 cup olive oil, 2 teaspoons salt and 1 teaspoon of pepper. Pour over the hot pasta and stir well.

Meanwhile, place the shrimp on a sheet pan, drizzle with olive oil, and sprinkle with salt and pepper. Toss to combine and spread out in a single layer. Roast for 5 to 6 minutes, until the shrimp are cooked through. Don't overcook!

Add the shrimp to the orzo and then add the scallions, dill, parsley, cucumber, onion, 2 teaspoons salt, and 1 teaspoon pepper. Toss well. Add the feta and stir carefully. Set aside at room temperature for 1 hour to allow the flavors to blend, or refrigerate overnight. If refrigerated, taste again for seasonings and bring back to room temperature before serving.

One year ago: Chocolate Chip Cookie Dough Frozen Yogurt
Two years ago: Bouchon Bakery's Nutter Butter Cookies
Three years ago: Eggplant Gratin
Four years ago: Fresh Corn Tomato Salad

Print This Recipe