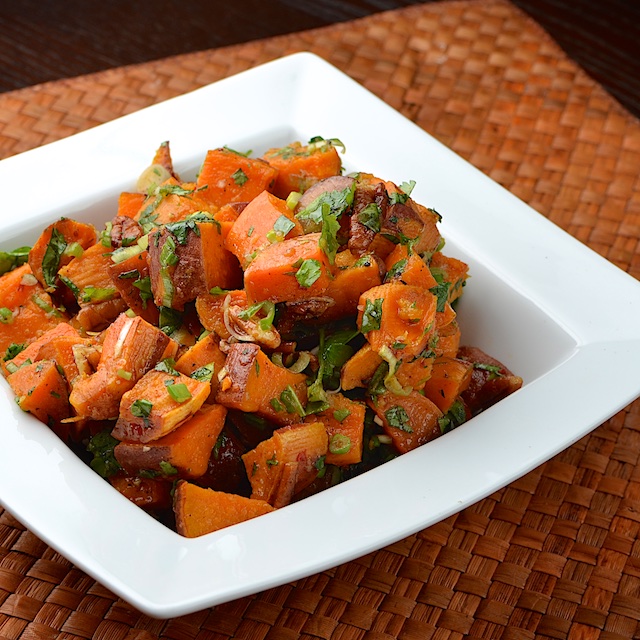 I have had my eye on this recipe for a long time. I'm a huge fan of recipes by Yotam Ottolenghi. One tastes more interesting and full of flavor than the next. His combination of herbs and spices may seem a bit strange, but the resulting dishes end up tasting wonderful.
This is a very interesting sweet potato salad. My husband said it reminded him of something that would be served at Thanksgiving. I think it's the cinnamon that made him feel that way. It's like no other potato salad you've ever tasted. A bit sweet and a bit savory with a big explosion of flavor. I love it, as did my husband. The boys would have none of it. Too many colors and flavors for them.
The original recipe called for sultanas. I had to look that one up. One site I found said it was a pale green grape. Another site said it was a golden raisin. I am not a huge fan of raisins, so I decided to use grapes. I didn't notice the spice from the red pepper flakes. If you like a little spice in your salads, I'd up this to 1/2 teaspoon. You want to make sure you have fresh herbs for this recipe. Dried won't do.
My kitchen scale was put to good use when I had to measure the pecans and the grapes.
Roasted Sweet Potatoes with Pecans and Maple
Recipe adapted ever so slightly from The Ottolenghi Cookbook

2 sweet potatoes (about 850g [2 lbs] in total)
3 Tablespoon olive oil
1.5 ounces pecans
4 scallions, roughly chopped
4 Tablespoons roughly chopped flat-leaf parsley
2 Tablespoons roughly chopped cilantro
1/4 tsp dried red pepper flakes
1.5 ounces sliced grapes
salt and pepper

For the dressing

4 Tablespoons olive oil
2 Tablespoons maple syrup
1 Tablespoons sherry vinegar
1 Tablespoons lemon juice
2 Tablespoons orange juice
2 teaspoons grated fresh ginger
1/2 teaspoons ground cinnamon

Preheat the oven to 375 F. Wash the sweet potatoes and scrub the skin. You're not going to peel them. Cut them into a 3/4 inch dice. Spread them on a baking sheet lined with parchment paper (for easy clean-up) and toss them with the olive oil until they are all coated in oil. Season with salt and pepper. Roast them for 30 minutes, gently stirring them after 15 minutes.

On a separate baking tray, toast the pecans for 5 minutes. Remove from the oven and chop roughly.

To make the dressing, whisk together all the ingredients in a small bowl with some salt and pepper. Taste and adjust the seasoning if necessary.

When the potatoes are cooked, transfer them to a large bowl while still hot. Add the scallions, parsley, cilantro, red pepper flakes, pecans and grapes. Pour the dressing over and toss gently to blend. You may not need all of the dressing. Season to taste. Serve warm or at room temperature.

Yield: 4 servings

Two years ago: Chicken and Rice Soup
Three years ago: Cajun Jambalaya
Four years ago: Red Velvet Cupcakes
Five years ago: Chocolate Yogurt Snack Cakes
Six years ago: Shrimp with Spiced Masala and Coconut Milk
Seven years ago: Breakfast Cookies

Print This Recipe