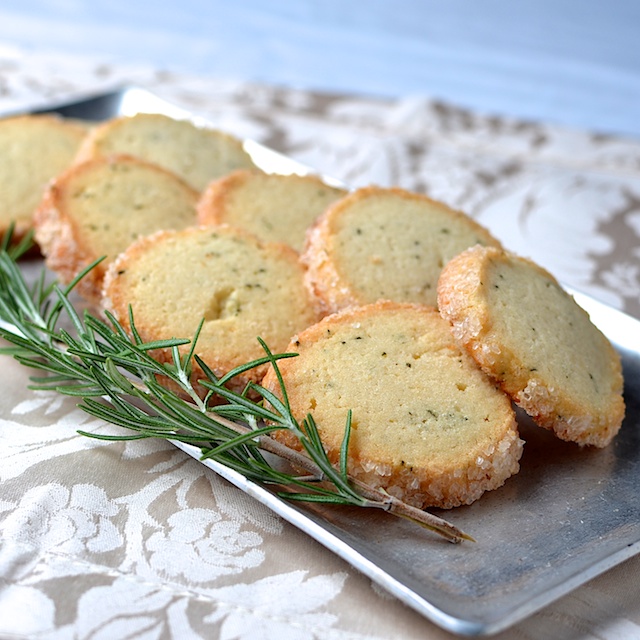 These rosemary butter cookies are delicious. They are delicate, buttery and the rosemary flavor is definitely there, but it's subtle. They're not too sweet, but just sweet enough. The cookies crumble in your mouth like a good, buttery shortbread. I tried these cookies for the first time this summer at a neighbor's house and I fell in love with them. My lovely neighbor subsequently gave me the Martha Stewart Cookie cookbook where this recipe can be found. I have to say, we have the best neighbors in the whole world; we couldn't have moved onto a better street. They're social, they're fun and you immediately get the feeling that if you ever needed anything, they'd be there for you.
This recipe calls for rolling the dough into logs and putting them into paper towel rolls. I didn't have any empty paper towel rolls kicking around, so I rolled the dough in parchment, then wrapped it in a Slipat mat and put rubber bands around it to keep it tightly wrapped. That seemed to work just fine. Don't skimp on freezing the dough for an hour. They are much easier to cut when frozen.
These cookies would make a great addition to a cookie swap.  They're also great as an afternoon snack with a cup of tea.
Only one of our boys would try these cookies and he LOVED them. The rest were put off by the green flecks. Wouldn't you figure that after 12 years, they'd get over their fear of green stuff in/on their food?
Rosemary Butter Cookies
Recipe from Martha Stweart

1 cup (2 sticks) unsalted butter, softened
3/4 cup granulated sugar
1 large egg
1 egg white, beaten
1 teaspoon pure vanilla extract
2 1/2 cups sifted all-purpose flour
1 tablespoon finely chopped fresh rosemary
3/4 teaspoon coarse salt
1/2 cup fine sanding sugar

Cream butter and granulated sugar until pale and fluffy, about 2 minutes. Mix in whole egg and vanilla. Reduce speed to low. Add flour, rosemary, and salt, and mix until combined.

Halve dough; shape each half into a log. Place each log on a 12-by-16-inch sheet of parchment. Roll in parchment to 1 1/2 inches in diameter, pressing a ruler along edge of parchment at each turn to narrow log. Transfer to paper-towel tubes to hold shape, and freeze until firm, about 1 hour.

Preheat oven to 375. Brush each log with egg white; roll in sanding sugar. Cut into 1/4-inch-thick rounds. Space 1 inch apart on baking sheets lined with parchment. Bake until edges are golden, 18 to 20 minutes. Let cool on sheets on wire racks. Store in airtight containers at room temperature up to 3 days.

Yield: ~60 cookies

One year ago: Grilled Eggplant with Tomatoes, Basil and Feta
Two years ago: Roasted Tomatillo Salsa
Three years ago: Cream Cheese and Wild Blueberry Pound Cake
Four years ago: Summer Corn Chowder with Scallions, Bacon and Potatoes
Five years ago: Union Square Cafe Bar Nuts
Six years ago: Grilled Salmon with Sweet Corn, Tomato and Avocado Relish

Print This Recipe