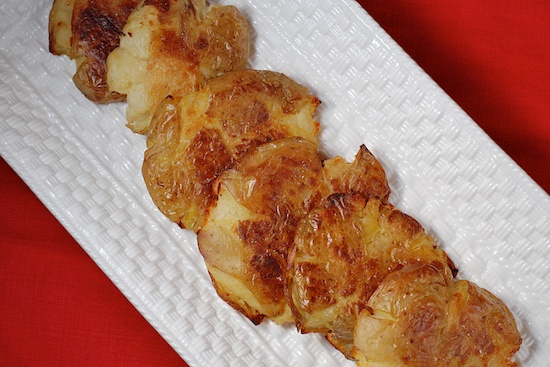 Made these potatoes tonight. In my usual fashion, they weren't ready with the rest of dinner. They came out of the oven just as we had finished the rest of the meal. It didn't matter though, they were so good that we ate a bunch of them anyway.
They're very easy to make but they take about an hour, so make sure to start cooking them an hour before you want to serve them. Don't do what I do and not read the entire recipe before you start cooking them. Will I ever learn? We didn't finish all of them tonight, so I plan to heat them up in the oven for dinner again tomorrow.
I didn't have any malt vinegar, so I used apple cider vinegar, which was delicious.   Malt vinegar would have been slightly better, but the vinegar that I used worked just fine.   The potatoes are nice and crispy on the outside, and fluffy on the inside.  They're really good.
My husband photographed these spuds on a beautiful Tiffany platter that we just received from our friends Laura and Rich.   I love when you open a package to find that traditional blue Tiffany box inside.  You know that whatever you find inside is going to be good!
Ok, so two of the four boys tried these tonight.  Did they like them?  Of course not.   How they can not like potatoes that are so delicious, I'll never know.  They're just not that different from french fries!
Salt 'n' Vinegar Roasted Potatoes
Recipe from Everyday Food by Martha Stewart, May 2011 issue

1 1/2 pounds small round or fingerling potatoes
Coarse salt
2 tablespoons extra-virgin olive oil
1/4 cup malt vinegar

In a medium pot, bring potatoes to a boil over high in salted water. Reduce heat and cook at a rapid simmer until potatoes are tender when pierced with a knife, about 20 minutes; drain.

Place a folded dish towel on a work surface and place a potato inside. Gently smash each potato with the palm of your hand so that it is flattened but still in one piece (edges will split). Repeat with remaining potatoes.

Preheat oven to 450 degrees. Brush a rimmed baking sheet with 1 tablespoon oil. Place potatoes on sheet and brush tops with 1 tablespoon oil. Bake until crisp and golden, 35 minutes, flipping them halfway through. Remove from oven, toss with vinegar, and season with salt.

Yield: 4 servings

One year ago: Weeknight Bolognese

Print This Recipe