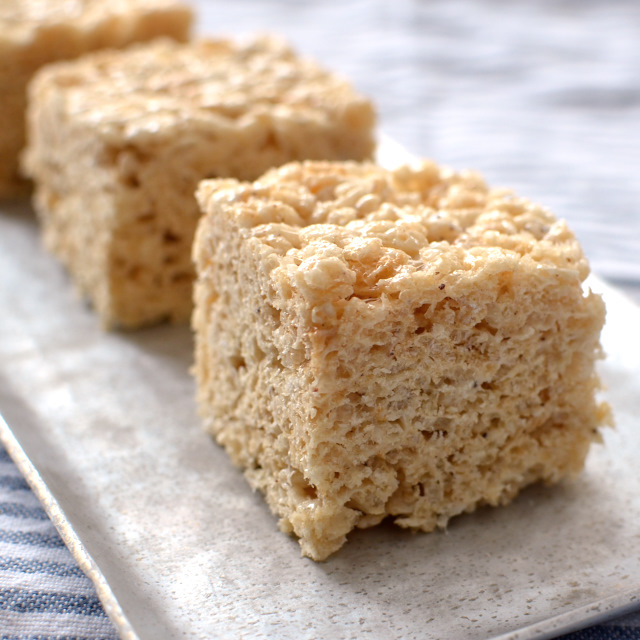 Many Rice Krispie treats can be very, very sweet. My husband was recently commenting that he likes them when they're salty and not cloying. This recipe is the answer! These are slightly salty and definitely not as sweet as traditional Rice Krispie treats. I think the nutty flavor of the brown butter tones down the sweetness of the marshmallows. These don't take long to make, and they're a kid-favorite. Of course all four of my boys ate these, although a couple of them weren't big fans of the addition of salt, but it didn't stop them from devouring them.
If you try these and you have never browned butter before, please know that you have to watch it very carefully. Your butter will go from golden to brown to black very quickly. While stirring the butter, you want to make sure you take it off the heat when it's a light brown color. Using a pan that doesn't have a dark interior will help you watch the color.
Cereal can be expensive these days. A 12-oz. box of Rice Krispies at a local market in NYC costs $5.79. I just found a 10-oz. box of "Crisp Rice" cereal (identical to Rice Krispies) at Trader Joe's for $1.99. I love that Trader Joe's prices are consistent across the country. It makes their products very affordable in NYC.
If you like Rice Krispie treats but want them to have a slightly more grown-up taste, this version is for you.
Salted Brown Butter Rice Krispie Treats
Recipe adapted ever so slightly from Smitten Kitchen

4 ounces (1/4 pound or 1 stick) unsalted butter, plus extra for the pan
1 10-ounce bag marshmallows
Heaping 1/4 teaspoon coarse sea salt
6 cups Rice Krispies cereal (about half a 12-ounce box)

Butter (or coat with non-stick spray) an 8-inch square cake pan with 2-inch sides.

In a large pot that doesn't have a dark interior, melt butter over medium-low heat. It will melt, then foam, then turn clear golden and finally start to turn brown and smell nutty. Stir frequently, scraping up any bits from the bottom as you do. Once it starts to get brown, watch it carefully so it doesn't burn, which it can do very quickly. As soon as the butter takes on a nutty color, turn the heat to very low and stir in the marshmallows. Keep stirring until the mixture is smooth. It can take a good 5 or 6 minutes for the marshmallows to melt completely. You might think that the mixture is never going to get smooth, but be patient, it will.

When the marshmallow mixture is smooth, remove the pot from the stove and pour in the cereal, then sprinkle the salt evenly over the cereal and stir together. When completely mixed, quickly spread into prepared pan. I liked to use a piece of waxed or parchment paper that I've sprayed with oil to press it firmly and evenly into the edges and corners.

Let cool and cut into squares.

Yield: 16 bars (2″ square)

One year ago:Texas Sheet Cake
Two years ago:Chock-Full-of-Chips Drops
Three years ago: Coconut-Crusted Shrimp
Four years ago:Indian-Style Mustard Greens
Five years ago:Marinated Swordfish
Six years ago:Orange Scones with Chocolate Chips
Seven years ago:Sugar Cookie Bars
Eight years ago:Whole Grain Buttermilk Pancakes