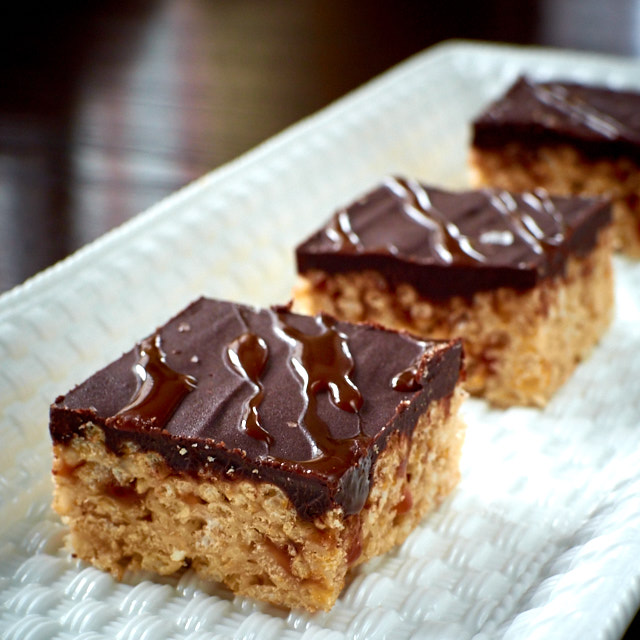 This is now my favorite way to eat Rice Krispies treats. They're really incredibly good and the boys (except for one who claims not to like caramel) went wild for them. So did some of their friends. The addition of caramel, chocolate and salt pushed these treats over the top.
The recipe calls for pre-made caramel sauce. I bought right into this and purchased a jar at Trader Joe's – inexpensive and tasty and just the perfect amount for this recipe. If you prefer to make things yourself, go ahead and make your own caramel sauce.
When you pour the caramel sauce over the bars, depending upon its viscosity, it may look like it's seeping into the bars, and that's ok. Once I poured the caramel on mine, I stuck them in the freezer for a few minutes to expedite the setting of the caramel. I did the same thing after I spread the chocolate on top.
I cut these using a meat cleaver and they cut beautifully. If you don't have a cleaver, use the largest knife you have.
I found that because of the chocolate and caramel on top, these are best kept in and served from the refrigerator. These bars are rich, so you can cut them into small pieces. I'm not sure I'm ever going back to plain Rice Krispies treats again.
Salted Caramel and Chocolate Rice Krispies Squares
Recipe from PureWow.com

6 tablespoons butter
One 10-ounce bag marshmallows
6 cups Rice Krispies
1 1/4 cups store-bought salted caramel sauce, plus 2 tablespoons for drizzling
12-ounce bag semisweet chocolate chips
1/2 cup heavy cream
Coarse sea salt, for finishing

Line a 13-by-9-inch pan with parchment paper and lightly grease the parchment with nonstick cooking spray.

In a large heat-safe bowl, combine the butter and marshmallows. Microwave in 20-second increments, stirring occasionally, until the mixture is melted and combined. The mixture should be very smooth.

Stir in the Rice Krispies, mixing until fully coated. Press the mixture into the prepared pan in an even layer. If you spray your hands or a spatula with non-stick spray, it will be easier to press the mixture without having it stick to you or the spatula.

Warm the caramel sauce in the microwave in 10-second increments until it's easily spreadable. Pour the caramel over the Rice Krispies mixture and spread into an even layer. Let the treats set at room temperature for 15 minutes.

In a medium-size heat-safe bowl, combine the chocolate and cream. Microwave the mixture in 15-second increments, stirring occasionally, until the chocolate is melted and the mixture is smooth.

Pour the chocolate over the caramel layer and spread evenly to cover. Refrigerate until the chocolate is almost set, sprinkle salt on the bars, chill for an additional 10 to 15 minutes until the chocolate is completely set. Drizzle the remaining 2 tablespoons of caramel sauce over the chocolate. Sprinkle with extra salt if desired. Slice and serve.

Store the bars in the refrigerator in an air-tight container.

Yield: many bars – it will depend upon the size you cut them

One year ago: Toasted Israeli Couscous Salad with Mint, Cucumber, and Feta
Two years ago: Rosemary Butter Cookies
Three years ago: Dark Chocolate and Nutella Puppy Chow
Four years ago: Pumpkin Pie Refrigerator Oatmeal
Five years ago: Mustard-Roasted Potatoes
Six years ago: McDonald's-Style Chicken Nuggets
Seven years ago: Very Green Broccoli Soup
Eight years ago: Ham and Swiss Puff Pastry Quiche

Print This Recipe