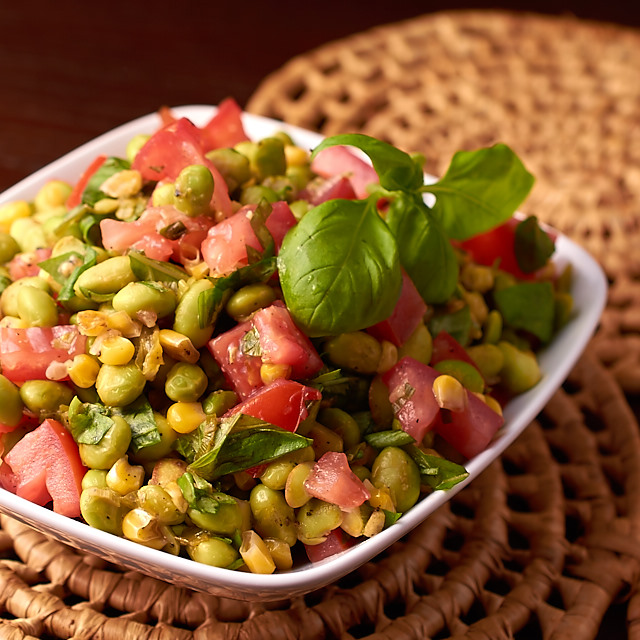 I love summer vegetable salads like this one where very little cooking is involved, and it's mostly chopping and assembly. I make lots of these in the summer. They're SO good when tomatoes and corn are in season. The weather has started to get warm here in NYC and despite the fact that fresh corn is not yet available, I decided to try this salad. I opted for frozen corn, which turned out to be just fine. If you have a Trader Joe's near you, they sell 12-oz bags of shelled edamame in their freezer section.
The original recipe is named "Roasted Edameme Salad". If I had fresh corn, I might have opted for roasting it, but I decided to throw the ingredients into a big sauté pan and cook them that way. For some reason, it seemed easier at the time. I sautéed the vegetables for about 15 minutes, then put them in a bowl to cool. I actually stuck the bowl in the freezer to expedite the cooling process. After about 15 minutes, I tossed the cooled edamame mixture with the chopped tomatoes, basil and red wine vinegar. I was surprised by how good the salad was. I was a little skeptical that it would be tasty with only red wine vinegar as the dressing, so I was prepared to doctor it, but no doctoring was necessary. It was delicious as is. Definitely no need for a fancy dressing.
This will most certainly become part of my summer side-dish rotation. It makes a great lunch the next day too.
Roasted Edamame Salad
Recipe adapted from Alton Brown via FoodNetwork.com

12 ounces fresh or frozen shelled edamame, about 2 cups
1/2 cup fresh corn kernels, about 2 ears of corn
1/4 cup finely diced scallions
1 clove garlic, minced
1 tablespoon olive oil
3/4 teaspoon kosher salt
1/4 teaspoon freshly ground black pepper
1 cup chopped fresh tomato
1/4 cup chopped fresh basil leaves
1 tablespoon red wine vinegar

Place the edamame, corn, scallions, garlic, olive oil, salt and pepper into a large sauté pan and stir to combine. Sauté until the vegetables soften and begin to brown. Remove from the oven and place the vegetables in a bowl and let them cool in the refrigerator. They should be cool in about 20-30 minutes. Once cool, add the tomato, basil and vinegar to the edamame mixture and toss to combine. Taste and adjust seasoning, as desired. Serve chilled or at room temperature.

Yield: 4 servings

One year ago: Chock-Full-of-Chips Drops
Two years ago: Provençal Cherry Tomato Gratin
Three years ago: Black Bean and Pepper Jack Burgers
Four years ago: Strawberry-Orange-Vanilla Smoothie
Five years ago: Shortbread Cookies
Six years ago: Sweet Potato Bread
Seven years ago: Asian Salmon Burgers

Print This Recipe