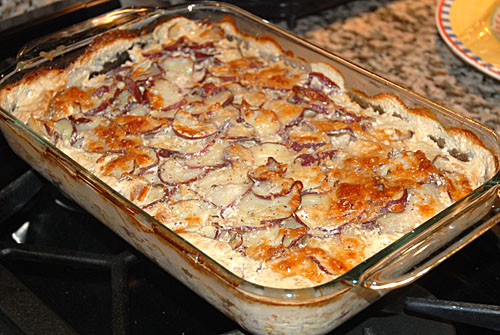 When the weather starts to get a little nippy, I long to cook hearty soups and casseroles.   Last week I bought some locally-grown baby red potatoes that needed to be eaten, so I decided to make a potato gratin tonight.  Some friends had also decided to stop by for dinner, so this seemed like the perfect thing to make.  The ingredient list was fairly simple, and I had most of the items on hand, with the exception of the fresh thyme.   This wasn't a problem though because twice a week we have a farmer's market across the street from our apartment, so it was easy to get the thyme.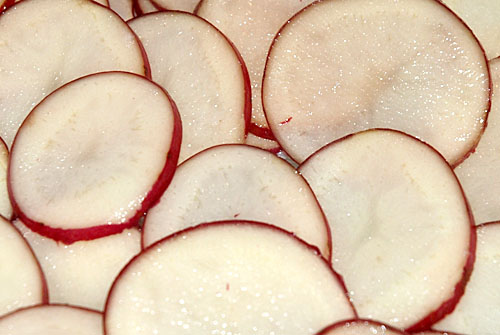 I used a mandolin to cut the potatoes, so they were all sliced pretty thinly and uniformly.   I also chose to leave the skin on.  I washed the potatoes very well before I sliced them.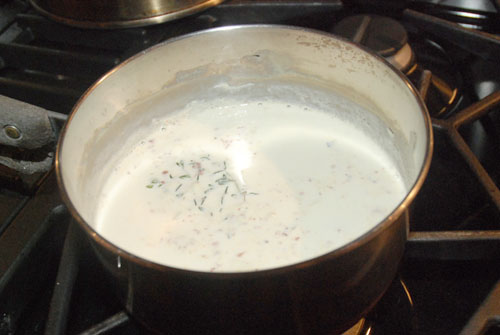 The recipe called for 1.5 cups of heavy cream, but I wanted to lighten the recipe up a bit, so I used a cup of heavy cream and a half cup of fat-free half and half.  This switch didn't harm the recipe at all.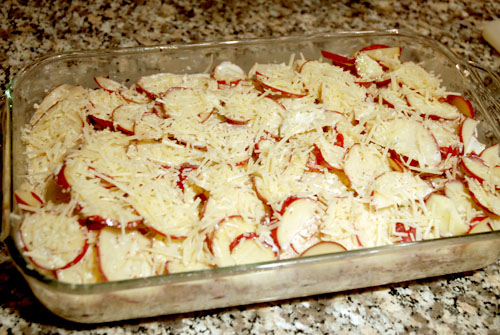 Here's the gratin ready to go into the oven.
Potatoes Gratin
Adapted from recipe from Tyler Florence

1 cup heavy cream and 1/2 cup fat-free half and half
1 sprig fresh thyme
2 garlic cloves, chopped
1/2 teaspoon ground nutmeg
Butter
2 pounds russet potatoes, peeled (or 2 lbs. baby red potatoes unpeeled) and cut into 1/8-inch thick slices
Salt and freshly ground black pepper
1/2 cup grated Parmesan, plus more for broiling

Preheat the oven to 375 degrees F.

In a saucepan, heat up the cream with a sprig of thyme, chopped garlic and nutmeg.

While cream is heating up, butter a casserole dish. Place a layer of potato in an overlapping pattern and season with salt and pepper. Remove cream from heat, then pour a little over the potatoes. Top with some grated Parmesan. Make 2 more layers. Bake, uncovered, for 45 minutes or until the potatoes are cooked through. Sprinkle some more Parmesan and broil until cheese browns, about 5 minutes.

Yield:  6 servings

Print This Recipe