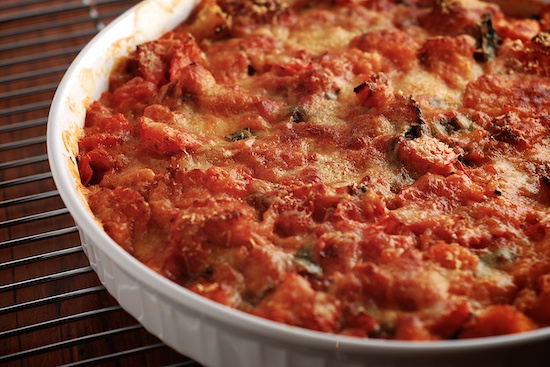 Ok, so this picture doesn't look so appetizing, but believe me, this recipe is wonderful.   I could probably have eaten all of it in one sitting it was so good.   I made it the other night and served it for dinner with a big green salad.  Yum!   There is an incredible amount of flavor packed into this dish.   The garlic gives it a nice punch.
This is a perfect recipe for this time of year (at least in the Northeast) because it's tomato season.   Soon, we're all going to be overrun with tomatoes.   When you are, you must try this recipe.  The recipe calls for plum tomatoes.   I had tomatoes from my CSA (not plum tomatoes) and used those.   The results were still amazing.
The next day, I used the leftovers as a dip.   I dipped both crackers and chips into the tomatoes, and they were once again outstanding.
Scalloped Tomatoes
Recipe by Ina Garten

3 tablespoons good olive oil
2 cups (1/2-inch diced) bread from a French boule, crusts removed
16 plum tomatoes, cut 1/2-inch dice (about 2 1/2 pounds) (I used Jersey tomatoes – and the dish was delicious)
1 tablespoon minced garlic (3 cloves)
2 tablespoons sugar
2 teaspoons kosher salt
1 teaspoon freshly ground black pepper
1/2 cup julienned basil leaves, lightly packed
1 cup freshly grated Parmesan cheese

Preheat the oven to 350 degrees F.

Heat 3 tablespoons of olive oil in a large (12 inch) saute pan over medium heat. Add the bread cubes and stir to coat with the oil. Cook over medium to medium-high heat for 5 minutes, stirring often, until the cubes are evenly browned.

Meanwhile, combine the tomatoes, garlic, sugar, salt, and pepper in a large bowl. When the bread cubes are done, add the tomato mixture and continue to cook, stirring often, for 5 minutes. Off the heat, stir in the basil.

Pour the tomato mixture into a shallow (6 to 8 cup) baking dish. Sprinkle evenly with the Parmesan cheese and drizzle with 2 tablespoons of olive oil. Bake for 35 to 40 minutes until the top is browned and the tomatoes are bubbly. Serve hot or warm.

Print This Recipe