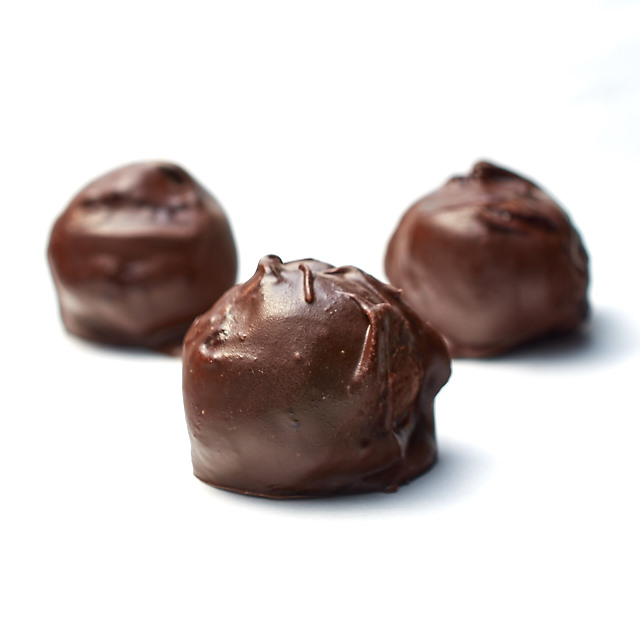 My friend Kathleen sent me a link to this recipe last weekend. She was trying to replicate fudge balls that she had eaten at a dinner party. She asked me what I thought of the recipe, and I took one look and told her that she shouldn't waste her time; the resulting fudge balls would be terrible. I just couldn't imagine black beans doubling as fudge. After reading some of the reviews, I decided to give the recipe a try, and I have to say that I hereby stand corrected. The fudge balls were delicious. Who knew that ground up beans could pass as fudge.
When I made them, I brought them out on a plate and asked the boys if they wanted to try one. The first question I got was – are they made with cheese? broccoli? The boys don't trust me any more. When I assured them that they weren't made with cheese OR broccoli, they deigned to try them although they still didn't trust me. Three out of four boys loved them. One said it tasted like coconut and he spit it out. That's the one that pretty much only eats peanut butter sandwiches.
The original recipe calls for a thin chocolate glaze. I had some Ghirardelli melting wafers on hand, so I used those as a glaze. I like a good, crunchy chocolate shell.
The recipe makes about a dozen fudge balls. If you need more, double or triple the recipe. If you're making a single batch, I highly recommend using a mini food processor. I fear that the ingredients for a single batch would get lost in a standard sized food processor.
Give these a shot and try to fool your family, like I did. If you are reading this and happen to know my family, please don't tell them that I served bean balls for dessert the other night. Thanks.
Secretly Healthy Fudge Balls
Recipe from Chocolate Covered Katie

2/3 cup cooked or canned black beans (120g)
2 1/2 tsp virgin coconut oil (See below for a substitution)
2 tbsp cacao or cocoa powder
1/2 tbsp pure maple syrup
1/16 tsp salt
1/4 tsp pure vanilla extract
2 tbsp granulated sugar
optional: chocolate melting wafers (I used Ghirardelli)

Drain the beans and rinse them VERY well. This is important! Then combine all ingredients in a mini food processor or blender and blend until COMPLETELY smooth. Refrigerate so the coconut oil hardens and the mixture is firm enough to roll into balls with your hands. Once rolled, return to the fridge. If you are going to dip them in chocolate, line a small cookie sheet or a plate with parchment paper, melt the wafers and roll the fudge balls in the melted chocolate. Once dipped, place the fudge balls on the parchment paper and return them to the refrigerator until the chocolate sets. Store the fudge balls in a covered container for up to a week. They can be frozen as well.


Yield: ~12 fudge balls, approximately 1″ in diameter

One year ago: Brigadeiros (Brazilian Fudge Balls)
Two years ago: Braised Coconut Spinach and Chickpeas with Lemon
Three years ago: Peanut Butter Cup Blondies
Four years ago: Caramels
Five years ago: Yucatán Pork Tenderloin
Six years ago: Carole's Country Style Spare Ribs
Seven years ago: Buttermilk Bran Muffins

Print This Recipe