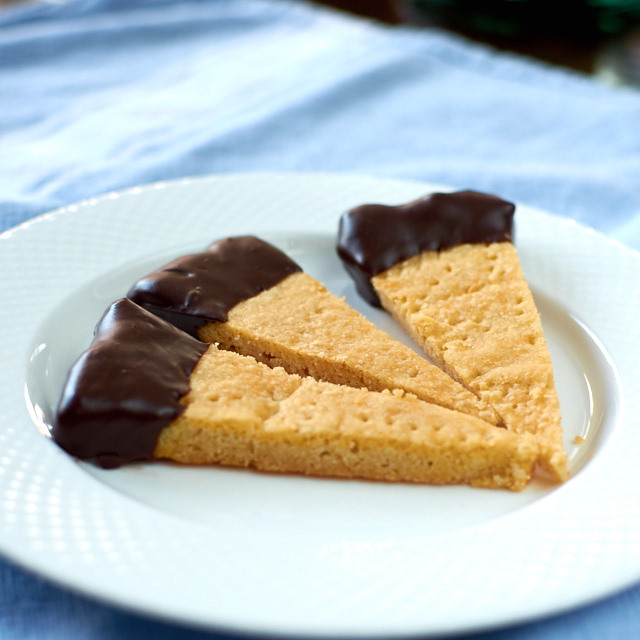 This is some of the best shortbread I have ever eaten. One of my sons has started to enjoy baking and makes a batch every now and then. He doesn't enjoy cooking. Just baking. I am hoping that I can convince him to do some cooking with me, in the hopes that he'll widen his palate. He's still a vegetarian who won't eat vegetables.
These cookies are incredibly buttery with great flavor and texture. I have found that with shortbread, the quality of the butter makes all the difference. We use Kerrygold Irish butter in this recipe with great results.
My son tried to make a batch of these last week for his aunt, and we're not sure why, but the cookies did not turn out as expected. They were almost like toffee, so his Aunt Lulu suggested that we crumble them and use them as an ice cream topping, which was perfect!
You can eat/serve these cookies as is, or dip them in chocolate as my son likes to do. I have read that lemon extract is a nice addition to the cookies. I plan to try it next time in place of the almond extract.

Shortbread
Recipe from King Arthur Flour

1 cup (2 sticks) salted butter, at cool room temperature*
1 cup confectioners' sugar
2 teaspoons vanilla extract
1/4 teaspoon almond extract
2 cups all-purpose flour

Preheat the oven to 300°F. Lightly grease two round 9″ cake pans. If you worry about the shortbread possibly sticking in your particular pans, line them with parchment, and grease the parchment.

In a medium-sized bowl, beat together the butter, sugar, vanilla, and almond extract, then beat in the flour. The mixture may seem a little dry at first; keep beating till it comes together. If it absolutely won't come together, dribble in up to 1 tablespoon of water, until it does. This is a stiff dough.

Divide the dough in half (if you have a scale, each half will weigh about 10 1/2 ounces), and press each half into one of the prepared pans, smoothing the surface with your fingers, or with a mini rolling pin.

Use a fork to prick the dough all over; this allows any steam to escape, and prevents the shortbread from bubbling as it bakes. Prick the dough in a random pattern, but it looks nicer pricked with some kind of symmetry.

Bake the shortbread until it's a light golden brown across the top surface, and a deeper golden brown around the edges, about 35 minutes.

Remove it from the oven, and immediately turn each shortbread round out onto a clean work surface.

Using a pizza wheel or sharp knife, cut each round into 12 wedges. (Do this while the shortbread is still warm; if you wait until it's cool, it won't cut easily.) Transfer the shortbread wedges to a rack to cool.

Yield: ~24 cookie wedges

One year ago: Nutella Cheesecake Chocolate Cookie Cups
Two years ago: Spring Root Vegetable Casserole
Three years ago: Tomato Feta Pasta Salad
Four years ago: Thai Curry Turkey Burgers
Five years ago: Chinese Chicken Salad
Six years ago: Cheese Quiche
Seven years ago: Mojitos

Eight years ago: Crispy Southwestern Baked Chicken

Print This Recipe