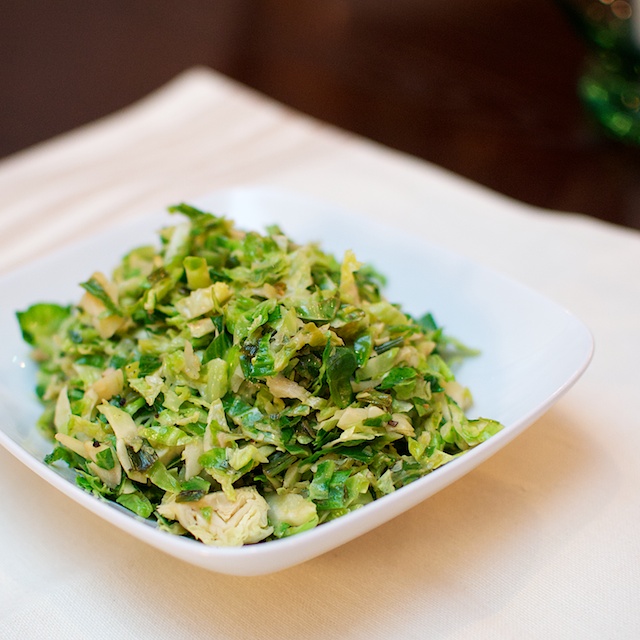 Our long Trader Joe's check out line snakes right through their fresh produce department. And when I say snakes, I mean snakes. I have never shopped in a store before where they need an employee to hold up a big "End of Line" sign. Sometimes the line to get in is around the block. It can be frustrating, but I continue to shop there. They don't have everything that I typically need, but they do have an awful lot, and they also have some inexpensively priced things that we go through like water, like their strawberry probiotic drink, their sliced almonds, their coconut-covered cashews, their hard-boiled eggs, I could go on and on.
The other day as I was waiting in line, I looked to my right and saw a bag of shredded brussels sprouts. I hated brussels sprouts as a kid, so it's no surprise that all of our boys hate them too, but now I LOVE them. My favorite recipe used to be Maple-Glazed Brussels Sprouts, but I now have a another favorite.
I adapted the recipe to suit the ingredients that I had on hand. The original recipe called for a strip of bacon, which I didn't have, so I skipped it. I think almost anything's better with bacon, so if you're a bacon fan, check out the original version of the recipe and add the bacon. The original recipe also called for a shallot, which I didn't have, so I used four scallions instead – both the white and green parts. I was pleased that it was so delicious as a vegetarian side.
Shredded Brussels Sprouts
Recipe adapted from Jamie Deen at FoodNetwork.com

2 cloves garlic, minced
4 scallions, sliced thinly, both white and green parts
10 oz. shredded brussels sprouts
Pinch brown sugar
Kosher salt and freshly ground black pepper
Juice of 1/2 a lemon
1 tablespoon chopped fresh flat-leaf parsley
3 Tablespoons butter

Melt the butter in a large skillet. Once melted, add the garlic and scallions and saute until the scallions are soft, 1 to 2 minutes. Stir in the Brussels sprouts and saute until tender crisp, 3 to 5 minutes. Add a pinch of brown sugar. Season with salt and pepper and add the lemon juice. Saute for 1 minute more. Toss with the chopped parsley. Serve hot or at room temperature.

Yield:  3 servings

One year ago: Halloween Treats
Two years ago: Baked Flounder with Tomatoes and Basil
Three years ago: Red Lentil Soup with Lemon
Four years ago: Spinach and Chicken Tortilla Bake
Five years ago: Pumpkin Chocolate Chip Cookies

Print This Recipe