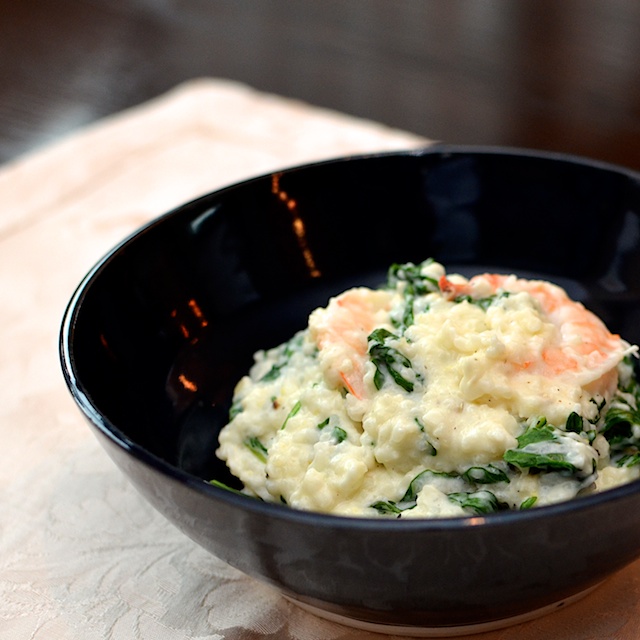 This is a really quick and easy weeknight meal, and if you're a fan of both shrimp and cheesy grits, this is the recipe for you! I bought a big bag of grits from Trader Joe's a while ago and wasn't sure what to do with them until I found this recipe.
According to the Houston Press, "Shrimp grits started out as a seasonal fisherman's dish of shrimp cooked in bacon grease served over creamy grits in the Low Country where they were also known as "breakfast shrimp." The simple seafood breakfast became an iconic Southern dish after Craig Claiborne wrote about it in the New York Times in 1985."
I buy my shrimp at Costco. The shrimp come frozen in a bag in their freezer section. I almost always buy frozen shrimp. I like to keep a bag in my freezer for quick meals like this. Most all shrimp that you see in a supermarket fish case or fish market has been previously frozen, so I don't mind buying it frozen from the get-go. You almost never see fresh shrimp for sale, or at least we don't in NY.
Shrimp and Grits
Recipe from Serious Eats

4 cups water
1/2 teaspoon salt
1 cup stone-ground grits
1/2 cup grated Parmesan cheese
32 medium shrimp (about 1 1/2 pounds), peeled and deveined
1 tablespoon olive oil
1 tablespoon flour
1 1/4 cups chicken broth
2 medium cloves garlic, minced (about 2 teaspoons)
5 scallions, white and light green parts finely chopped (about 3/4 cup)
1 tablespoon juice from 1 lemon
1/2 teaspoon salt
1/2 teaspoon pepper
1/2 teaspoon Tabasco sauce
5 oz. baby spinach (about 2 loosely packed cups)

In a medium saucepan, bring water to a boil. Add salt, then grits and cook, stirring frequently, until thick, about 25-30 minutes.  Follow your package instructions for precise cooking time.  Stir in cheese. Keep warm.

In a large saucepan, heat olive oil over medium high heat until shimmering. Season shrimp with salt and pepper, add to pan, and saute until cooked through, about 1 minute per side. Remove shrimp with a slotted spoon and set aside.

Whisk flour into pan and cook, stirring constantly, until pale golden, about 1 minute. Whisk in chicken broth, garlic, scallions, salt, pepper, and hot sauce. Cook until slightly reduced, about 3 minutes. Add shrimp and spinach to pan and cook until spinach is wilted.

Place grits on every plate and top with shrimp, spinach, and sauce.

Yield:  4 servings

One year ago: Lemon Ricotta Waffles
Two years ago: Swiss Chard and Sweet Potato Gratin
Three years ago: Neiman Marcus Chicken Salad
Four years ago:  Pepper Jack, Chicken and Peach Quesadillas
Five years ago: Vanilla Frozen Yogurt
Six years ago: Grilled Tuna with Herbed Aioli

Print This Recipe