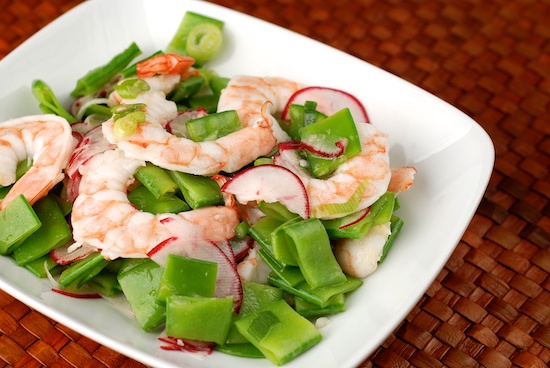 If you like shrimp and you're in the mood for a light, refreshing summer dish, this is it. The flavors in this salad are bright, it has a lot of crunch and it's very refreshing on a hot day. It's heading up to almost 100 in NYC today and I wish we hadn't eaten all of this salad last night. It would have been a perfect lunch today.
When I made this, I sliced the radishes using my mandoline because I like radishes when they are sliced really thinly.
This salad is easy to make, but it took me a little over an hour to put it together, with all of the different steps – cooking and chopping the snow peas, cooking and chopping the shrimp, slicing the radishes, making the dressing, etc., but I have to say that it's well worth the effort. Chilled on a hot summer day, there's nothing better.
Shrimp and Snow Pea Salad
Recipe from Ellie Krieger for Food Network Magazine

12 ounces snow peas
1 1/4 pounds medium shrimp, peeled and deveined
6 radishes, thinly sliced into half-moons
4 scallions, thinly sliced
1/3 cup rice vinegar
1 tablespoon canola oil
1 tablespoon toasted sesame oil
1 tablespoon grated fresh ginger
Salt
2 tablespoons toasted sesame seeds

Bring a large saucepan of water with a steamer basket to a boil. Put the snow peas in the basket, cover and cook for 2 minutes. Remove the basket and transfer the snow peas to a bowl of ice water to cool. Drain and pat dry.

Add the shrimp directly to the saucepan of water and return to a boil; cook for 2 minutes. Drain, then plunge the shrimp into a bowl of ice water to cool. Drain and pat dry.

Slice each shrimp in half lengthwise. Cut the snow peas diagonally into 1/2-inch pieces, discarding the ends. In a large bowl, toss the shrimp, snow peas, radishes and scallions.

In a small bowl, whisk the vinegar, both oils, the ginger and 1/2 teaspoon salt. Toss with the salad right before serving; top with sesame seeds.

Yield: 4 servings

Two years ago: Guacamole
Three years ago: Buttermilk Summer Squash Soup

Print This Recipe